Quick Links: > 23 Footer
> 29 Footer
> Photo Gallery
> Club's For Sale
Listings
> Amera Coach
> FAQs & Help
> Members Only
---
The Aero Cruiser motor home is no longer in production; however, there is an active club of current owners who exchange ideas, hold rallies, and maintain a file of hundreds of maintenance and fix up tips including where to find Aero Cruiser parts. But mostly we just have fun!

We love the size and layout of the Aero Cruiser and would rather restore an old one than be caught dead in one of those big behemoths. For most enthusiasts, the 23-foot Aero Cruiser is just the right size to see the sights around a new town or to go camping

in the boonies for a week. And for the rest of us there is the 29-foot Aero Cruiser.

We currently have over 160 members and would like to find more. If you have an Aero Cruiser motor home or know of somebody who has one, please let them know we are here. We always have members who are looking for an Aero Cruiser RV with a specific floor plan and others who have their Aero Cruiser up for sale. So if you have one, or wish you did, then get in touch with us as described below.

Let us know if you Like this site & please leave a comment.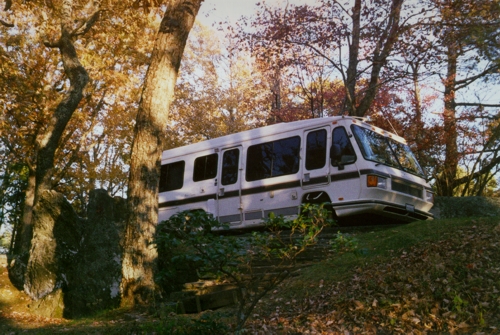 A Members Aero Cruiser at the Mathews Arm Campground in
the Shenandoah National Park along Skyline Drive in West Virginia.
Click here to read the story of their 10,676 mile, 10 week trip around the US.

Join our Aero Cruiser Classics Club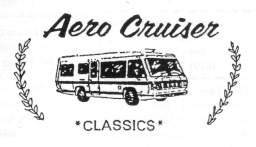 If you have any questions,
give Rick's Cell a call at:
1-702-596-1349 or
send an E-Mail to:
Tom Heald <tom@fl-ink.com>
Our Club Address is:
Tom Heald
7688 Saint Francis Ct.
Gilroy, CA 95020-5319

It's only $20 to join. Yearly dues have been suspended for now, but may be reinstated if we run short of funds. Membership gives you access to our Members only site with information on upcoming Rallies, photos from past rallies, past Newsletter (no longer published), and our Shared Knowledge Base with hundreds of tips on the care and maintenance of your Aero Cruiser.

Our member can also use our "Aero Cruiser Classic" Group on Google with its Message Board to ask questions and get answers from other members. And when it's time to move on, place free ads to sell their Aero Cruisers

on our club's web page.

Important Information:
After you pay you must send an E-Mail as indicated below or nobody will know you paid and send you the membership information.
You must include your name, address, phone number and E-Mail Address*. Optionally: Please include your spouse's or companion's name, coach info -- (Aero Cruiser, Amera Cruiser or Amera Coach) Aero Cruiser is the default, (23 or 29 foot), year, model (RB-Rear Bed, RBa-Rear Bath or TB-Twin Beds) -- plus (if you wish) your cell phone and license plate numbers so if somebody sees your rig on the road they can get in touch with you. This information will go into the membership roster on our Members only Website.
* All communication is via the Internet. If you do not include an E-Mail address you will not receive any information on the club until you contact Tom Heald <tom@fl-ink.com> with the information listed above! Make sure that tom@fl-ink.com is added to your E-Mail "Address Book" or "Contact List" so any correspondence will not go into your Junk mail folder.
How to Pay:
Make your check payable to "Tom Heald" and send it to the address above or pay via PayPal below. Note: The turn around time on PayPal is normally 2 to 3 weeks faster than sending a check.

If you prefer you can pay via PayPal.
Just click on the "Pay Now" button to go to PayPal and confirm your $20 payment.
Important
After you send in a payment please send an E-Mail to Tom Heald <tom@fl-ink.com> as he will not receive a notification from PayPal! Please include the Important information listed above the PayPal box. He won't know you want to join the club unless you send him an E-Mail.
When your payment is received, you will be sent a confirming e-mail with information on how to access the club's Members only web sites. If you don't hear from anybody within a few days (PayPal) or a few weeks (check), send an E-Mail* as described above.
Your payment is used to support the club's web site, special rally activities and printing costs plus postage for mailings. All of the club's officers are volunteers, and do not receive any payment for their activities.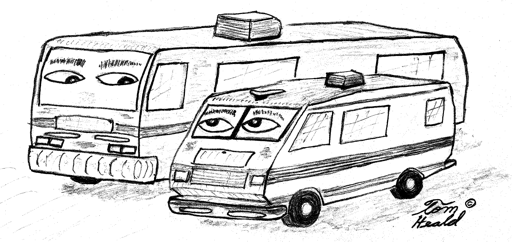 I used to be bigger, but they left me out in the rain.
Search the Internet for "Aero Cruiser"
Click on the "Search Button" below to search the Internet for "Aero Cruiser". The canned search has lots of options to eliminate the Internet flotsam -- you know, all those junk hits -- so you get mostly useful hits. You can, of course, modify it or enter your own search argument.
Hint: If you want to see the search results in a separate page, hold down on the shift key when you click on the search button.
You can search the whole Web or just our Club Site.
In the searches above, you will notice that you did not get any hits on "Aero Cruiser" from the Major Search Engines', Auctions or Classified ads. You must got to each site (eBay, CraigsList, Lycos, etc.), enter their Auctions or Classifieds section, and then use the special search engine that they provide to scan their listings.
Looking for Used Aero Cruisers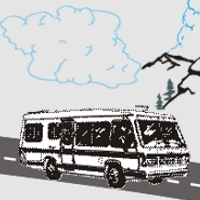 Come join us on the road.

To get extra exposure, some of our members and many others advertise there Aero Cruisers in the following classified, "For Sale" site. There are lots of other classifieds, so check 'em all out.

You must enter "Aero Cruiser" after going to each web sites and then push the "Search" button.

You may also want to search for "Amera Coach" which was manufactured in the Midwest as opposed to the West-Coast origin of the Aero Cruiser. They are very similar to the Aero Cruiser and are more commonly found from the Mid-West to the East-Coast.
---
Copyrightę 1999-2016
Freelance Ink.
All Rights Reserved.

---

Free counters provided by Honesty.com on Oct. 17, 2000.
For Sale

Visit the Aero
Cruiser Classics'
For Sale site
to find your
Aero Cruiser