The following Aero Cruisers are up for Adoption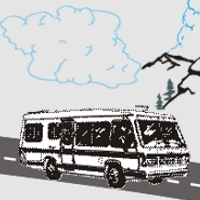 Come join us on the road.

The accuracy of the information posted here is the sole responsibility of the owner of each Aero Cruiser listed. The Aero Cruiser Club only provides space for members to list their Aero Cruisers that are up for sale and does not warranted or guarantied said information, so use it at your own risk. It is the responsibility of both the buyer and seller to reach an equable arrangement and to settle any disputes among themselves.

The information, specifications and pictures on this site should be taken as a general indication of the Aero Cruiser motor home line and not as specifics for any particular Aero Cruiser. Each Aero Cruiser is unique and the factory routinely made modifications and enhancements to individual Aero Cruisers.

| | |
| --- | --- |
| The 23 foot Aero Cruiser | The 29 foot Aero Cruiser |
The listings below primarily contain a description of optional equipment and any extras added to each Aero Cruiser up for sale. For a general description, standard features and pictures click on one of the following links:
- For a general description of standard features and floor plans click here.
- For interior and exterior pictures of several different Aero Cruisers click here.
Note from the Webmaster: Sometimes members who list their Aero Cruisers forget to tell me when it is sold. If you come across one that is sold, please let the let Tom Heald know or forward their e-mail to tom@fl-ink.com. Thanks.
Make: Amera Coach
Year: 1990
Length: 29 Foot
Model: Twin Bed
Price: $28,000
Mileage: 38,000 miles
Engine: Gas
Location: Murrieta, CA 92563
Contact: Jim, E-Mail: cozzijim@gmail.com --
Cell: (248) 979-0238 Pacific time

Description: It's a real beauty! Totally restored, rare 29 footer with very low miles. Updated with: new quartz countertops, reupholstered leather seating, Manington commercial grade vinyl wood plank flooring, Samsung plasma TV, designer curtains and valances for updated look, new Firestone tires, upgraded 3 inch brakes, ball joints, mufflers, stainless steel exhaust tips, new 3M graphics, Dometic convection/microwave oven, leveling jacks, new Kenwood stereo, new Hehr side window and screen.

Click here for pictures -- https://mycruiser.shutterfly.com/128

Over $25,000 invested

Updated on 07/20/16
Make: Amera Cruiser
Year: 1988
Length: 23 Foot
Model:
Price: $__,___
Mileage: 62,170 miles
Engine: Gas
Location: San Diego Near:
Contact: Lainey, E-Mail: laineylink@yahoo.com -- Home: 1-760-809-7989

Description: 1988 Vintage Amera Cruiser,23' , in good condition and running order. New starter motor and battery. I have her listed on the San Diego craigslist with lots of pictures.

Updated on 11/18/15
Make: Amera Coach
Year: 1990
Length: 23 Foot
Model: Rear Bath
Price: $10,500
Mileage: 49,750 miles
Engine: Gas
Location: Ukiah, CA 95469 Near: San Francisco
Contact: Steven, E-Mail: rowansc@yahoo.com 707-272-7431 cell

Description: This coach is in pretty good condition, the engine has been very recently completely professionally overhauled, it has the original roller bearing cam high output 360. The brake lines have all been replaced and the brakes checked and repaired if needed. the transmission has been serviced. it has almost new catalytic converters and muffler and much of the exhaust piping is new.
The body is in good shape, some small cracks in the fiberglass have been repaired and it could use a paint job, but looks pretty good. interior is in fair to good condition, some of the interior has been repaired or modified with high grade plywood and looks good, almost original I think. original upholstery is in good shape the glass is in good shape, the tires are nearly unworn. it has an aftermarket high quality radio, cd player that can play dvds on the included flat screen tv in the original spot. it has the orig onan generator. it has a rear ladder and roof rack, and a 15 watt solar panel and charge controller, with almost new batteries. It could use a little tlc, but not much
I will consider any offer, so if you are at all interested, do not hesitate to contact me

Updated on 03/29/14
Make: Aero Cruiser
Year: 1989
Length: 23 Foot
Model: Rear Bath
Price: $10,500
Mileage: 48,239 miles
Engine: Gas
Location: Beaverton, OR 97008 Near:
Contact: Donald, E-Mail: yottdoyo@aol.com --
Home: 503-319-8559

Description: Standard Features: Chrysler 360 cu. in. (5.9 Liter-205 H.P.) fuel-inject.; 3-speed auto. trans.; power steering & brakes; tilt steering wheel. Specs: GVWR 10,400 lb.; 135 inches wheel base

Opt. Equip.: Trailer tow package; side docking-lights; 110 volt 4,000 watt generator; 13,500 BTU roof air cond.; cruise control; microwave; am/fm stereo/cassette radio w/4 speakers

Add. Info.: Interstate coach-battery (NEW 2011); Interstate Mega-Tron II engine-battery (NEW 2011); Uniroyal Laredo 9.50 16.5 LT LB tires (older good condition & no cracking); trailer hitch and ball

Product Info.: Owner's manuals; Chrysler Operation Inst.; manufacturer info. (Gardner-Pacific Corporation…California); all individual appliance owner-manuals

Features/Upgrades: Kenmore microwave; (NEW 2009) Dometic refrig.; Wedgewood Range w/ 4-burner cook top ( stainless steel ); main heater Hydro Flame Corp.; Duo Therm heater/air cond.; Honda EV4010 gas gen. (serviced one year ago); Atwood water heater; double stainless kitchen sink; (NEW 2012) toilet Thetford Resident¯ foot-flush; (NEW 2010) bathroom sink; shower interior light & sky-light; coach-window privacy glass; custom attachable privacy-screens

Interior Condition: Upholstery fabric all seats, folding-sofa, & bed exc. cond.; carpet good original (shows normal camping usage); covered with (NEW 2012) commercial-grade floor-covering; all cabinets in storage areas, kitchen, bed/bath area, & living/driving area excellent (work properly/smoothly); kitchen is clean & efficient design (all appliances work well); installed in toilet/shower/wash-basin area (NEW 2012) Hickory-Wood Paneling; bedroom & bathroom area (NEW 2012) Terragon Brand¯ bamboo-flooring

Overall Condition: Very good & great looking; Attractive interior color combinations; No accidents or body damage; Runs great & drives well.

Updated on 11/21/13
Make: Amera Coach
Year: 1989
Length: 23 Foot
Model: Rear Bath
Price: $9,500
Mileage: 73,000 / 500 miles**
Engine: Gas
Location: Tallahassee, Florida
Contact: Dan, E-Mail: volvmotion@aol.com -- Home: 850-251-6137

Description: A CLASSIC 1989 AMERA COACH 23' rear bath.
This is a sweet vehicle; the owner is broken-hearted to have to sell it, but her husband passed away a few months ago and she does not want to use the RV by herself. All appliances & amenities are in working condition. Interior is original, with normal wear & tear for its age (including some slight wallpaper damage).

** 73,000 road miles with a brand-new gasoline powered, 2012 commercial model Chrysler 360 engine with approximately 500 miles on it. tow package, retractable awning

3-burner gas stove with vent hood, convection/ microwave oven, 3-way refrigerator with freezer compartment, double kitchen sink, bathroom shower & sink chemical toilet

Vizio TV, A/C & heat, tinted windows, AM/FM radio with 4 built-in speakers tilt steering cruise control, dual batteries (one is brand-new) 4K Orion generator with 104 hours

Click for SLIDE SHOW

RV is being stored & cared for by a family friend. For info and/or a viewing, please see contact above.

Updated on 07/30/13
Make: Aero Cruiser
Year: 1990
Length: 29 Foot
Model: Twin Bed
Price: $19,950 Firm
Mileage: 124,000 miles
Engine: Gas
Location: Santa Cruz, CA 95060
Contact: Frank, frank@GenesisHistory.org -- Mobile: 831-419-9260

Description: Rare 1990 29-footer (only 15 made)
Twin Beds. Driver door. Sofa-bed. 19" Vizio LCD HD TV. Cable TV hook-up.

Pergo laminated flooring. Couch re-upholstered in 2001. Oak trim on all windows.

Chrysler 360 industrial engine, TBI. Power steering, brakes. Tilt
steering wheel.

Exhaust: new-ish HD headers, new 3-inch straight-through muffler, and CAT -- more HP. Mini-blower adds a few more HP and increases mileage: ~10 MPG at 55-60 MPH. Cooling: cross-flow aluminum radiator, electric fans, oil and tranny-fluid coolers.

New Michelin tires on Alcoa wheels: six of them. LGS chassis, brake upgrade. Spare is also aluminum, in a factory-integrated, custom continental kit.

Solar panels, four new-ish golf-cart batteries, and 1500w inverter.
New battery tray. Most interior lights, and the porch light, are LEDs, to conserve battery power. 13,000 BTU roof air conditioner. Cab AC likely needs freon recharge to work again. Two Fantastic fans, one automatic with thermostat.

Lexus power seats at front; Toyota Sienna chair with arms for third chair. Fiama 14-foot awning. Louvered rather than slider windows. Automatic power step. Refrigerator: 3-way (propane, AC, 12v), recently replaced the cooling unit, added insulation. Highly efficient propane catalytic heater and original propane forced-air heater.
Propane oven & 4 burners. Ladder (new) and roof rack.

HWH hydraulic levelers lift front wheels off ground, rear wheels nearly. Two gray tanks, for long dry camping ----- and for even longer: Optional gray-water pump to toilet, to save fresh water and extend gray-tank usage. China toilet. Skylight over shower.
Generac 5500w generator: new starter, voltage regulator, and muffler.

Transmission: factory rebuilt at about 95,000 miles: shift kit, HD components. Gear Vendors auxiliary transmission for overdrive in all three forward gears. Rear-end: new 488 gears in 2001, for better power to wheels, more MPG.

Engine coolant goes through heat exchanger in HW heater, so arrive with hot water. Also through a car-type heater in the bedroom, for rear heat while traveling. Upgraded mirrors. Class III tow package (5,000 lb capacity). Front coil springs upgraded to HD. Hand-held CB & Firewire antenna (but loose connection between???)
AM-FM-CD with aux input for TV sound into four large-magnet 6x9 speakers.

Utterly detailed mileage, repair, and upgrade records from ~80K miles. I have had a blast trying all sorts of improvements: a virtual laboratory. 124,000 miles with no sign of quitting.

The Aero Cruiser is a unique, award winning, low profile Class A Motor Home. Ahead of its time -- it is a classic. See pictures at 1990 Aero Cruiser For Sale. Not included: wife, dog, Sherman tank.

Updated on 1/1/14
Make: Aero Cruiser
Year: 1989
Length: 23 Foot
Model: Rear Bath
Price: $11,500
Mileage: >90,000 miles
Engine: Gas
Location: Newcastle, CA Near: Auburn/Sacramento area
Contact: Gene, ladysmith01@att.net -- Home: 530-842-4665,
Cell: 541-430-5098

Description: Class A motor home.
Hydraulic levelers, chrome wheels, Honda generator. Solar battery charging system, Air conditioner, heater and roof vent fan. All manuals available. Flat screen T V with surround sound and DVD player. Microwave/convection oven, newer 3 way refrigerator. Sleeps four. Very clean and well maintained.

Updated on 07/11/11
Make: Aero Cruiser
Year: 1989
Length: 23 Foot
Model: Twin Bed
Price: $13,900
Mileage: 29,600 miles
Engine: Gas
Location: Chino Valley AZ. 86323

Near: 100 miles N of Phoenix

Contact: Stan, E-Mail: srwirick@cableone.net Phone is a better way to reach me

-- Home: 928-925-1232

Description: The Aero Cruiser is a unique, award-winning, low-profile Class A Motor Home.
Options include: Driver & Passenger Doors, Hydraulic Levelers, Tow Package, Power Step, Generator with only 160 hours, Roof Rack & Ladder, CB & Antenna, TV/VCR combo, Upgraded Suspension & Brakes, New Goodyear Tires, Excellently Maintained, All Manuals & Records available. Updated fresh water system. New Batteries

Updated on 10/19/10
Make: Aero Cruiser
Year: 1989
Length: 23 Foot
Model: Twin Bed
Price: $14,995.00
Mileage: 40,000 miles
Engine: Gas
Location: Cassopolis, MI 49031 Near:

North of

South Bend Indiana
Contact: Tim, E-Mail: treasuresdownunder1@verizon.net
Phone: 1-269-445-2799 H (1-269-445-1577 work 10:00am to 5:00pm)

Description: Upgrades and Repairs summer of 2009
Refrigerator / Freezer, Overhauled Furnace, 4-New Shocks, Leaf springs both sides, Complete Tune up includes: rotor, plug wires, Distributor Cap, Plugs etc, Rebuilt Carburetor / tuned by master carburetor technician, 4- New Tires 2008, Two New Batteries, New Radiator and engine cooling system, New Rear Air Bag Compressor and Tank, Wiper Blades and Arms, Exhaust Wrap from Engine to converter, Water Heater By-Pass Kit,
I have a folder with records since RV was new.
Satellite Receiver (Older) came with RV
We love our Aero Cruiser but I need to haul a big cargo trailer weighing in at over 15,000 lbs. This unit is in very good condition and hope someone will enjoy it as much as we have.

Updated on 03/13/10
Make: Aero Cruiser
Year: 1991
Length: 23 Foot
Model: Rear Bath
Price: Reduced to
$16,000 or Best offer
Mileage: 99,500 miles
Engine: Gas
Location: Hilmar, CA 95324 Near: Modesto/Turlock
Contact: Bill EMail: billandruth@clearwire.net Cell 209-556-3005

9:00 am to 9:00 pm Pacific Time

Description:

23 ft class A; 360 dodge engine; CB/antenna; TV; roof rack and ladder; alcoa aluminum wheels; gear vendor; roof ac; fantastic fan; convection oven; all upgrades; driver door; awning; floor-good condition; interior-good condition; very clean; new tires.

Updated on 07/25/09
Make: Aero Cruiser
Year: 1990
Length: 23 Foot
Model: Rear Bed
Price: $10,500
Mileage: 108,000 miles
Engine: Gas
Location: Mesa, AZ 85205 Near: Phoenix
Contact: Ed, (No E-Mail) -- Home phone:
Summer: 415-479-3773, Winter: 480-830-4247

Description: HWH Hydraulic levelers, Driver and Passenger side Doors, Alcon Wheels, Safe-T-Steer, Gear Vendors, CB Radio, Winegard Antenna, New Roof A/C, 15 watt Solar Panel to keep the battery charged and 4 new Tires, Newly rebuilt Refrigerator.

Updated on 5/02/09
Make: Aero Cruiser
Year: 199_
Length: 23 Foot
Model: Rear Bath
Price: SOLD $17,950
Mileage: 19,923 miles
Engine: Gas
Location: Oceanside, CA 92054 Near: San Diego
Contact: Zac, E-Mail: julieannekeeler@gmail.com -- Home: 1-949-394-3255

Description: Very clean and well maintained
You can view our video here: https://tinyurl.com/y9xbhss2
You can view pictures here: https://orangecounty.craigslist.org/rvs/6236795731.html
We have made a number of recent renovations and replacements so it is in excellent shape! All manuals available. Only 20,000 miles! We love it but are running out of room with the kids getting bigger. We will consider any offer.
Full kitchen: double, stainless steel sink, Panasonic Gemini microwave, 4-burner cook top, refrigerator and freezer (refurbished) by Dometic, storage cabinets
Rear bathroom: toilet and fiberglass shower stall with shower curtain, bathroom sink with medicine cabinet mirror, shower sky-light and interior light
Rear full bed with small wall shelves above. Living Area: Folding sofa/couch opens up to a bed sleeping 1 or 2, storage underneath, turning chair by pull-out dining table with cup racks, wood floors, storage cabinets beneath sofa/couch, main heater and AC (Dometic Duo-Therm), water heater, Cd/DVD player, Pioneer Radio, Kenwood surround sound speakers, Sharp 9" TV, sky light, interior light and porch light, power door step to main door
Outside: 14' side mounted awning
Equipment: New battery (2017), new tires (Michelin), trailer hitch, Cruise control, Generator (fixed in 2015) with exterior generator compartment

Updated on 09/19/17
Make: Aero Cruiser
Year: 1991
Length: 23 Foot
Model: Rear Bed
Price: -- Sold -- $18,500.00
Mileage: 36,000 miles
Engine: Gas
Location: Fort Myers, 33908 Near: Tampa
Contact: Dan Palmer Cell 239-691-4454 9:00 am to 9:00 pm EST
E-Mail: danpalmer2@aol.com

Description: Must sell as I have taken a job overseas. I have put a lot in to it to get it in tiptop shape, so someone is getting a bargain. All new in dash A/C Unit, Tires, Brakes, Engine hoses/wires, TV, reverse camera, seats. Rebuilt transmission.

Updated on 2/15/2017
Make: Amera Coach
Year: 1989
Length: 23 Foot
Model: Rear Bath
Price: -- Sold -- $5,000
Mileage: 85,000 miles
Engine: Gas
Location: Wyoming, MN 55092 Near: Minneapolis
Contact: Ed Phone: 612-710-9371 anytime, E-Mail: hiimedd@yahoo.com

Description: I own a 1989 ( built 1988 ) 23' AMERA COACH with 70,550 mi shown on odometer and have decided to sell it rather than invest in the time and expense of restoring it. I was in the process of removing the bodyside vinyl molding on the drivers side, when I noticed that the plywood under the fiberglass exterior was rotted. This is also noticeable on the inside of the coach as well if you push against the wall, again, on the drivers side, as it appears to be ok on the inside of the passenger side. I have not removed the body molding on the passenger side but for some reason it appears to be in better shape (?)

The interior and exterior both are in need of upgrading but please note there is no actual damage to the fiberglass of the coach, curtains, carpet are the two main areas in need of replacement. There are no tears or holes nor stains in the couch, bed and driver/passenger seats or recliner, just in need of cleaning or again (?). The fridge/freezer, furnace, range, micro wave/convection oven and water heater (propane and electric ) and water pump all work fine.

I just serviced the generator with new plugs, oil and filters. I installed a brand new Carrier Roof Air Conditioner late last fall ( $500 ), new Firestone Transforce HT tires ( $800 ), had the transmission ( $850 ) and carburetor rebuilt/engine vacuum hoses replaced, etc ( $700 ). I replaced both faucets in the kitchen and bathroom sinks with new, better looking ones. It has a wheeless trailer(tm) which attaches to the installed trailer towing package.

The original TV works as does the radio/CB and it's 4 speakers. The system monitor panel for the black/gray water is no longer showing levels. ALL GLASS is undamaged ( windows/windshield/inside mirrors ) except for the drivers side rearview mirror which has a crack but is intact. The engine air condoner was not working when I bought it but I believe the compressor is still there. The Dodge 360cu in. motor pulls strong but uses oil.

If anyone is interested/has questions please give me a call. I can drive this motor home to any location as it is very drivable and I wouldn't mind a road trip. I believe all this coach needs is upgrading and TLC. I am asking $5000.00/obo.

Updated on 09/07/16
Make: Aero Cruiser
Year: 1988
Length: 23 Foot
Model: Rear Bath
Price: -- Sold --
Mileage: 60,000 miles
Engine: Gas
Location: Menifee CA 92584 Near: Riverside CA.
Contact: Andy, Cell

951-313-7552

(9 am - 7 pm) PST
E-Mail: andy.natali@gmail.com

Description:
This coach Start and drives but need carb. adjustments
Gear Vendor Overdrive
Recent overhaul of Dodge 360 engine (2014)
New Carburetor (2015) needs adjustment
Two new House Batteries (2014)
New Tires less than 500 miles
Front Steering recent rebuilt. (2012)
New Electronic Converter/Charger
House AC,Toilet, Shower, Sinks, Stove top and Refrigerator all working perfectly.
All Manuals including Hayden service Manual for Dodge 360 Engine
I began to update the interior and am unable to complete the project.
Floors are currently vinyl tile and original wood paneling walls.
Space for oven current empty (converting to extra storage).
Exterior is in great shape.
https://mycruiser23natali.shutterfly.com/pictures
Pictures upon request.

Updated on 8/27/15
Make: Aero Cruiser
Year: 1991
Length: 23 Foot
Model: Twin Bed
Price: -- SOLD -- $14,800
Mileage: 61,000 miles
Engine: Gas
Location: Santa Rosa, CA Near: San Francisco
Contact: Howard, E-Mail: howard.booster@gmail.com --
cell: 707-799-4564

Description:

This motorhome has been meticulously maintained since it was purchased in 1994. All the systems are in good working order and the vehicle is road ready. It will provide years of convenient, comfortable motoring.

Of note is that this in the newer design of the Aero Cruiser, 1991. It has new Michelin radial tires all around. It also has 4.56:1 rear end ratio with a Gear Vendor gear splitter (overdrive). This gives a final drive ratio range of 11.49:1 to 3.56:1, making the rig a dream to drive, especially in hilly terrain.

Pictures are available upon request, or you can see them on Craigslist (SF Bay Area).

Updated on 5/15/15
Make: Aero Cruiser
Year: 1990
Length: 23 Foot
Model: Rear Bath
Price: -- SOLD -- $10,990
Mileage: 64,000 miles
Engine: Gas
Location: Gilroy, CA 95020 Near: San Jose / San Francisco Bay Area
Contact: Tom, E-Mail: tom@fl-ink.com --
Home: 408-842-9672 (9:00 am to 9:00 pm Pacific time)

Description: This 1990 Aero Cruiser; a unique, award-winning, low-profile Class A Motor Home is all spiffed-up and ready to roll. It features a low mileage (64K) Chrysler 360 C.I.D. (5.9 Liter) V8 engine from a D350, 1 ton Dodge truck with an A727 Transmission on a custom "LGS" chassis. Everything is in good shape except the curtains up front which I will be replacing OR I WILL CREDIT YOU $500 if you want to do it yourself.

Standard Features: Are listed on our club page along with floor plans. Just click here -- http://aero-cruiser.fl-ink.com/ac-23ft.htm -- to see the Aero Cruiser's layouts and features.

Options ON this rig include: Driver & Passenger Doors, Tow Package, Bicycle rack, Power Step, Satellite Dish and Receiver, CB & Antenna, TV/VCR combo, Double pain shower Sky Light to help keep the inside cool, Fantastic vent fan in the rear to pull cool air through the whole rig, Upgraded Brakes, added Engine Oil and Transmission Temperature Gages to supplement the idiot lights, A specially designed blower motor for improved fuel economy and more power on hills, three way Refrigerator, added utility/docking light in the Hook-up area to help when backing up at night and hooking up in the dark, Aluminum Wheels with Good Tires, Excellently Maintained, All Manuals & Records available including an Automotive repair manual covering Full-size Dodge Pick-ups from 1974 through 1993 by Hayden. A complete set of tools, Gas Barbecue for outside use and all the normal jacks, lug nuts wrenches, etc.

Click here for Pictures of this rig -- http://aero-cruiser.fl-ink.com/ac-antique.htm -- both inside and out.

This Aero Cruiser is a genuine antique, lovingly maintained and comes with lots of help for any new owner. There is an active Aero Cruiser Club -- http://aero-cruiser.fl-ink.com/index.htm -- with information on upcoming Rallies, photos from past rallies, past Newsletter, and our Shared Knowledge Base with hundreds of tips on the care and maintenance of an Aero Cruiser. Our member can also use our Aero Cruiser Group on Google with its Message Board to ask questions and get answers from other members.

Updated on 3/14/2015
Make: -- SOLD -- Aero Cruiser
Year: 1991
Length: 23 Foot
Model: Twin Bed
Price: $8,000
Mileage: 81,290 miles
Engine: Gas
Location: Richland, MS 39218 Near: Jackson, MS
Contact: Walter, E-Mail: wes0778@bellsouth.net -- Home: 601-750-7656

Description: We have a 23 foot twin bed that we have used only 3 or 4 times since we bought it a little over 2 years ago. I've done some repairs and upgrades to it. Everything works! (except the bathroom exhaust fan)

This is a pretty standard coach. everything except the bathroom vent fan works.

I have replaced the cooling unit in the Dometic refrigerator/freezer. It is a 3-way unit (120V, Propane and 12V)

The 5500 Generac Generator starts and runs good. The spark plugs, fuel filter and air filter have been replaced and the oil and filter changed.

I have added a digital TV converter. A VCR and DVD player are included.

The head gaskets were replaced in Feb 2010. At that time the heads were checked for cracks and completely reworked. (Receipts available) I have upgraded the red rear marker lights and have the upgrade front amber lamps available, but not installed. The right tail light has a chip out of it and the ladder on the rear has a slight bend. Right after we bought the coach(@68,000 miles) I replaced all 4 tires with new Firestones. I have had the transmission was serviced by Aamco. I have also added a plywood baffle between the frame rails behind the grill to help the air flow through the radiator. Since I have had the coach I have also replaced all the fan belts and radiator hoses.

It also has a roof mounted A/C unit, Towing package, awning, AM/FM stereo with 4 speakers, 9" color TV, Microwave, power door step, dual deep cycle batteries, fog lights and Driver's side door.

Updated on 10/04/14
Make: Aero Cruiser
Year: 1990
Length: 23 Foot
Model: Rear Bed
Price: -- SOLD --
$10,500
Mileage: 66,000 miles
Engine: Gas
Location: Phoenix, Arizona Near: Mesa, AZ
Contact: Julia, E-Mail: julia@everycoast.co -- Phone: 415-652-9887

Description: Options include: overdrive, drives door, hydraulic levelers, tow hitch, power step, generator with only 209 hours (oil and filter changed, new spark plugs), new Bilstein shocks, new front control arms and bushings, fresh water upgraded to 50 gal., professionally rebuilt carb, new entry locks with deadbolts, tubular cam locks and dust covers added to pass-through basement storage, roof A/C, newer Dometic fridge, WindGuard TV Satellite. Normal wear considering its age. Fiberglass is crack and damage-free! Some manuals and records available.

Request pictures via e-mail from julia@everycoast.co or
click here to view them online.

Updated on 05/28/14
Make: Aero Cruiser
Year: 1989
Length: 23 Foot
Model: Rear Bath
Price: -- SOLD -- $7,777
Mileage: 77,000 miles
Engine: Gas
Location: Olympia, WA 98501 Near: Seattle
Contact: James, E-Mail: james.wege@gmail.com --

8:00 am to 9:00 pm Pacific Time

Description: I bought my Aero Cuiser a few years ago, and drove it home from another state. It has many of the factory options, including the drives door, docking lights, awning, roof AC, four burner stove with oven, dual power fridge/freezer, 4000w Honda generator (remote start from drivers station and lounge), power mirrors, tow package, toilet/sink/shower, kitchen sink, microwave, and lots of storage. It has been upgraded with an overdrive and different gears, rebuilt transmission and rear axle, improved front steering box, and larger rear brakes. Recently I replaced the batteries, starter, and starter relay. The tires and brakes are relatively recent.

After driving it back to Washington, we only used it a few times, going to Spokane or eastern Oregon for a weekend. Really, it is too much for our limited use.

Updated on 07/13/14
Make: Amera Coach
Year: 1990
Length: 23 Foot
Model: Rear Bed
Price: -- SOLD -- $4,500 obo
Mileage: 43,000 miles
Engine: Gas
Location: Coldwater, KS 67029 Near: Wichita
Contact: Dave, dave@davegerstner.com -- 620-635-5138

Description: Runs good. 43000 indicated miles with broken odometer. Everything works except dash A/C. Driver's side windshield cracked. Good tires; however, they have a 2004 date codes so they probably should be replaced. Also there is a crimp connection leak near the plumbing pump under the bathroom sink although I'll try to get that fixed before I sell it. I'm located in Southwest Kansas. It has a clean salvage/rebuilt title (from theft according to PO. Clearly not wrecked.) If you're interested and would like pics email me at dave@davegerstner.com or click here to view them online. Thanks!

Updated on 5/18/14
Make: Aero Cruiser
Year: 1990
Length: 23 Foot
Model: Rear Bed
Price: -- Sold -- $11,650
Mileage: 67,000 miles
Engine: Gas
Location: Port Townsend, Wash. 98368
Contact: Sandy, E-Mail: sandra_d2@msn.com --
Home: 1-360-385-3806, Cell 1-360-531-1975 between 9:30 and 5:30 Pacific Time.

Description: Fully self contained, Fuel injected Chrysler 360, w/cruise control, tow package, Roof rack/ladder, Gear Vender, air ride suspension, upgraded exhaust system, power step, Fiberglass gelcoat body/roof, steel cage over driver/passenger, awning, docking lights, roof rack/ladder, CBand antenna, TV/VCR combo, HWH hydraulic levelers, Generac 5.5 Kw w/188 hrs. (all manuals included) roof air, solar panel, radiator/transmission cooler fan. Fantastic Fan, 30 gal fresh water, 10 gal. propane, superior Oak woodwork inside. New 3 way refrigerator, Microwave/convection oven. CB, Propane furnace plus catalatic heater. Always garaged. All manuals/records since 'get-go' available. Request pictures via e-mail.

Updated on 3/27/14
Make: Aero Cruiser
Year: 1991
Length: 29 Foot
Model: Twin Bed
Price: --Sold -- $10,500
Mileage: 105,505 miles
Engine: Gas
Location: Sunol, CA 94586 Near: San Francisco Bay Area
Contact: Ralph Cell: 925-548-3337
E-Mail: lorinielsen2000@yahoo.com

Call between 7:30 am and 9:30 pm Pacific Time. No collect calls.

Description: Hard to find 29 foot, Twin beds coach with dinette, and blue interior.
Optional equipment includes:
13,000 BTU roof air conditioner (low profile), docking lights, 6.6 kw
Generac generator with two remote starts, Class III tow package (5,000 lb capacity), AM-FM stereo with four large-magnet 6x9 speakers, 10" color TV, VHS cassette player, 6 cu ft 3-way refrigerator (propane, AC, 12v), microwave oven, roof rack with ladder, power door step (needs repair), additional coach battery, custom windows for cold climate (one-of-a-kind).
Upgrades include:
Flexsteel driver and passenger chairs, hand-held CB radio, under-cabinet coffee maker, Gear Vendors auxiliary transmission for overdrive in all three forward gears, Alcoa wheels, radial tires, brake upgrade. Original owner, estate sale.

Updated on 8/12/13
Make: Aero Cruiser
Year: 1990 / 1991
Length: 23 Foot
Model: Rear Bath
Price: -- Sold -- $8,500
Mileage: 81,770 miles, 29,247 on new engine
Engine: Gas
Location: Lexington, SC 29072 Near: Columbia, SC
Contact: Peter, mondeels@windstream.net --
Home: (803) 808 9677. Cell phone #(916) 606 0920
Call between 6 a.m. and 6 p.m. (Pacific time)

Description: This is a 23 foot 1990/1991 Aerocruiser with 81,770 miles on the odometer. 29,247 of these miles are on a new engine. This engine is a gas fuel-injection remanufactured industrial engine installed in 2007, which has increased the power & mpg somewhat. A Gear Vendor unit has been installed. This unit has a rear queen-size bed, next to the shower. Shower and toilet are enclosed. The refrigerator was replaced in 2009 with a Dometic Classic. There is a near-new 14-foot awning. It has hydraulic levelers and a rebuilt power step. It also has a 20-inch color TV and a DVD player. We are including a complete towing package. Both front windshields have been replaced.
Read about The engine replacement by clicking here.

Updated on 07/12/13
Make: Amera Coach II
Year: 1990
Length: 23 Foot
Model: Rear Bath
Price: -- Sold -- $5,200
Mileage: 162K + miles
Engine: Gas
Location: Centerville, OH 45458 Near: Dayton, OH
Contact: Jerry, E-Mail: jdarling4@woh.rr.com --
Home: 937-434-1141 Cell: 937-232-8651 (10:00AM-10:00PM ESDT) no collect calls please

Description: Just did major tune-up, new thermostat & anti-freeze. Less than 200 mi. on rebuilt tranny. Runs really good but needs some work. Generator needs new starter. This is a very restorable unit. Will listen to offers.

Updated on 1/20/13
Make: Aero Cruiser
Year: 1991
Length: 29 Foot
Model: Quean Bed
Price: -- Sold -- $12,500
Mileage: 86,000 miles
Engine: Gas
Location: Eugene, OR 97404
Contact: Dean, E-Mail: deanlila@q.com -- Home: (541) 461-2057

Description: Rare 1991 Aero Cruiser 29-foot motorhome.
This is a unique low profile Class A motorhome. See – http://aero-cruiser.fl-ink.com/ -- for floor plan and additional photos. Options include driver's door, 5.2 KW Generac generator w/ remote start, hydraulic levelers, upgraded headers/exhaust system, Gear Vendor, cruise control, upgraded brakes, near-new tires, Alco wheels, heavy-duty tag axle with new air bags, tow package with additional receivers for motorbike rack. Reversible Fantastic Fan, roof-mounted air conditioner, roof rack with ladder, back-up camera. Queen bed, oven/range, gas/electric refrigerator/freezer, microwave, 15-inch flat screen color TV, custom sound system, 4 additional cooling fans. 86K miles. Excellent condition, kept under cover. A no-smoking coach.

Updated on 04/19/12
Make: Amera Cruiser
Year: 1988
Length: 23 Foot
Model: Rear Bed
Price: -- Sold -- $9,500
Mileage: 56,000 miles
Engine: Gas
Location: Aguanga, CA 92536 Near: Temecula, CA
Contact: Ken, E-Mail: Kenhorn626@gmail.com --
Home: 619-559-0735 9:00 am to 9:00 pm Pacific Time

Description: Classic motorhome on a Dodge one ton chassis, only 350 built.
Rear bed model, Bath & Shower, large tinted windows, Roof & engine A/C, AM/FM/CD radio w/4 speakers, dual batteries w/roof solar, cruise, 4-burner stove top, convection microwave oven. 3-Way refrig., oak cabinets. power step, fog lights, docking lights, roof rack & ladder, CB, tow package, air springs, 4K Onan generator w/84 hours, Chrysler 360 gets about 10 mpg. 56K miles. Low profile, easy to drive and park.

Updated on 04/19/12
Make: Amera Coach
Year: 1990
Length: 29 Foot
Model: Rear Bed
Price: -- Sold --
$15.000
Mileage: 26,500 miles
Engine: Gas
Location: Savannah GA 31410
Contact: Viet Phone: 912-713-1529 E-Mail: vth41@aol.com

Description: 1990 29' AMERA COACH Class A motor home. 
Modern classic, built for only 3 years (1989-1991) in Indiana. One of the rarest Amera Coach models 29 SD. I got it from an estate sale. The interior is unbelievably clean, mattress looks new, matter fact this motor home looks like it was never slept in. You will not find a cleaner motor home for the year.

The previous owner had it for years and rarely used it. This one has only 26,400 miles. Has a Dodge 360 CID with fuel injection engine. Runs like a champ. Interior is unbelievable beautiful, with oak cabinets. It's in excellent condition for a 22 year old motor home. Looks great, runs great. You can step in, turn the key and start your trip! Made in INDIANA by AMERA CRUISER with the west coast AERO CRUISER body.  VIN# 43NC00A29K1LS0213

Engine AC doesn't work.

I found this information on AERO CRUISER web site. This 29SD Amera Coach is a hybrid. It's one of six 29' Amera Coach RV ever built. (May be) I have all the original owner's manuals that came with the RV. Onan generator, Norcold refrigerator, LGS chassis, microwave oven...ECT.

Click on the link: http://www.use.com/gencodes.pl?set=e01a9827f3eeb1211fae&photos=&preview=3
for more pictures. Call me for any questions.

Updated on 03/31/12
Make: Aero Cruiser
Year: 1991
Length: 23 Foot
Model: Rear Bed
Price: -- Sold -- $14,999
Mileage: 45,000 miles
Engine: Gas
Location: Edmonds, WA 98020 Near: Seattle
Contact: Rick or Carol, rstormy@rocketmail.com --
Home: 425 299-9731 or 206 228-5183

Description: Beautifully Cared for Coach

This beautiful coach has new tires, new batteries, wireless back up camera, new blue tooth remote stereo, CB hookup, new refrigerator and air conditioner and fresh service. Rear of coach has a three receiver hitch platform that can hold a scooter. There is no evidence of water damage.


The interior chairs and couch are in excellent condition and are light blue green. Carpet is in good condition and recently cleaned.

Updated on 1/13/12
Thanks for lookin', now get cruisin'. Tom Heald - Club Webmaster