Quick Links:
> Home Page > 29 Footer
> Photo Gallery
> Club's For Sale
Listings
> Amera Coach
> FAQs & Help
> Members Only
---
The 23 foot Aero Cruiser comes in three models: Rear Bed, Rear Bath and Twin Bed as differentiated by the three floor plans shown below.

Click here to see pictures of a 25 year old antique Aero Cruiser.



Aero Cruiser Specification:

These are the specifications from the 23 foot Aero Cruiser Brochure. They apply to some number of Aero Cruisers and should be taken as a general indication and not as specifications for any particular Aero Cruiser.

Exterior Features:
- Molded Fiberglass Construction
- Dual rear view mirrors
- Custom molded bumpers
- Rear air ride suspension
- Generator compartment
- Cargo compartment with light

Electrical:
- 25 foot 30 amp power cord
- Auxiliary battery with
charging isolation
- 110V / 12V converter with
battery charger
- Prewired for speakers
- 12V power exhaust fan
- Boomerang TV Antenna

Plumbing:
- City water hookup
- 6 Gallon water heater
- System monitor control panel
- 12V demand water pump
- Double stainless steel sink
- Fiberglass shower stall
- Marine toilet
- Fresh water capacity: 32 Gallons
- Gray water capacity in Gallons:
24 R-bed, 34 R-bath, 24 T-bed
- Black water capacity in Gallons:
34 R-bed, 24 R-bath, 34 T-bed
- LPG 10.9 Gallons
- Fuel capacity 35 or 55 Gallons

General:
- National brand name
Appliances and Components
- 4 Cu, Ft 3-way refrigerator
- 4 burner range / oven
- 25,999 BTU Forced air heater
- LPG Leak detector
- Wired for Cable TV and Phone
- Overall Length 23' 3"
- Overall Height 99"

23 footer Floor Plans


Click to see the 29 footer Floor Plan

Chassis Specifications:
- Engine: Chrysler 360 Cu. In.
(5.9 Liter) Fuel Injected.
- Horsepower: 205
- Transmission: 3-speed automatic
- Power steering
- Tilt steering wheel
- Power brakes
- GVWR 10,400 lb.
- Wheel base 135 inches

Optional Equipment:
- Hydraulic levelers
- Trailer towing package
- 14' side mounted awning
- Side docking lights
- 110 volt 4,000 watt generator
- AM/FM Stereo/cassette radio
with 4 speakers
- 9" Color TV
- VCR
- 13,500 BTU roof air conditioning
- Cruise Control
- Double door Refrigerator
(6 Cu. Ft.)
- Microwave
- Luggage rack and ladder
- Power door step
- Power heated mirrors
- Fog lights
- Additional coach battery
- Driver and or Passenger door
The Steel Cage Construction of a 23 foot Aero Cruiser
with the "LGS" Chassis.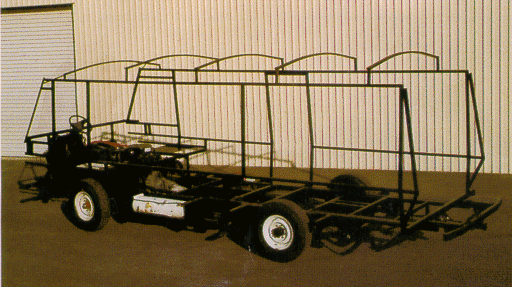 Note the location of the roof ribs in the picture above. The center rib is attached to the side frame just an inch or so forward of the center of the door. If you look inside the coach this corresponds to the location of the seam in the ceiling panels and each of the 5 seams appear to correspond with location of the 5 ribs. This is important if you wish to install anything through the roof such as a satellite antenna or a roof vent. Be aware however, that not all Aero Cruiser are created the same. Early Aero Cruisers with the "Vironex" chassis have a wooden frame and may not be laid out the same. So proceed with caution no mater what year your Aero Cruiser is. The members only section of the club has tips on the installation of items on or through the roof as well as hundreds of other care and maintenance issues.
I am now one year into owning our Aero Cruiser. Some of you might notice my enthusiasm on owning this 23 footer rear bath motorhome.

First of all I am a want-to-be: engineer and mechanic and a full-time car nerd.

In a motor home I wanted:

Something small enough to fit behind my house (Max 26')
One with a couch and separate bedroom.
A rig that got better than 10mpg.
Powerful enough tow my classic 1982 Malibu day cruiser boat.
Under $12,000 so I could pay cash and not have to finance a toy.

The Aero Cruiser was one of the few machines that could fit all our desires.

Bringing our little coach up to good working condition did not take much money or time. To bring it all the way to excellent condition took more time.

With the internet to find supplies and some shared mechanical knowledge and the help from the folks on the Aero Cruiser Club's web sites we now have an excellent traveling machine.

These Aero Cruisers are works of art and engineering. Only a few hundred had been made in a city close by (Vallejo, California). The same company made the
Sunrader. This was a 21' motorhome mounted on a Toyota one-ton truck chassis. These were the BEST small RV's made, and a restored 1992 Sunrader just went for $24,000 on eBay in June of 2008.

We have spent many weekends in RV parks and dry camping over the last 12 months. Some trips we arein parks with other rigs of all sizes and shapes. Our little Aero Cruiser holds its own with any of the expensive toys the others own, or more than likely, are still paying on. It wins in both the design and comforts that my wife, dogs and I want and need. It drives better than a large one ton pick-up truck.

These Aero Cruisers are works of art and engineering but they are not for everyone. I once loved Audi cars back in the 80's and 90's before they became so popular and main stream. These were wonderful cars, but had some issues that would frustrate the average car owner. They cars, at the time, were works of art and engineering that I believed were ahead of their time.

A 20-year-old Aero Cruiser is not for everyone but the parts are simple and the original workmanship is exceptional. Something to hold on to for a long time. The Aero Cruiser is a fine work of art that you can live and travel in.

Happy trails.
Rod, Joanie and Chloe (our year-old Vizsla)
I spent a lot of time researching low profile, compact class A RVs before finding the Aero Cruiser. After researching it and thanks to the good works of Tom Heald and everyone who has ever participated in the Google group I had enough information gathered to make a decision. I knew I wanted an LGS Short Wheelbase Chassis with a fuel injection motor and the Rear Bath / Bed configuration. I wanted a Driver's side door and a passenger side one. I had to have the Gear Vendor Under / Overdrive (even budgeted to purchase and install one!) Alcoa Aluminum wheels and a couch not a dinette. I wanted the window in front of the bed and a convection microwave in place of the stove. Oh, and not the pink-ish interior!

The coach should have been well cared for and not have excessive miles with as complete records as possible. All in all I did great! Only thing I didn't get was the passenger side door. Ah well!

I am really enjoying ownership! Many of my projects are done to simply update or expand the capabilities of my coach. After 20 years, some technology has
changed and parts wear out. I fully expect to get another 20 years out of it!

I've had many other types of coaches and this one is exactly what I want / need.

Farther down the line will likely be an engine swap to something a bit newer that will be a bit more frugal on fuel and add a bit of power. Perhaps a rear differential ratio swap... who knows. Right now I can be self sufficient at least until the water runs out and the dump tanks are full! Next trip is Dayton, Ohio to the Air Force Museum.

Recently, I've started a campaign to archive all the data amassed by everyone, starting at the factory and moving to the present so a new owner has an idea of what has been done, what's what and what goes where. These are custom built one of a kinds (mostly!) and I'd like to keep them all running far into the future.

Seems to me, Gardner Pacific just had poor timing. Gas was getting cheaper and people wanted bigger and bigger. Today, with a few updates, they'd probably sell many more! Who knows, maybe I'll resurrect the name and build a new version......

Thanks for listening, Rich

Editorial Note: One of the advantages of owning a previously cared for Aero Cruiser is that all of those original workmanship problems you find in most new motor homes have been fixed.

Tom Heald, Webmaster and another enthusiast owner of a 23 footer.

---
Copyright© 1999-2016
Freelance Ink.
All Rights Reserved.

---
For Sale

Visit the Aero
Cruiser Classics'
For Sale site
to find your
Aero Cruiser