Quick Links:
> Home Page
> 23 Footer > Photo Gallery
> Club's For Sale
Listings
> Amera Coach
> FAQs & Help
> Members Only
---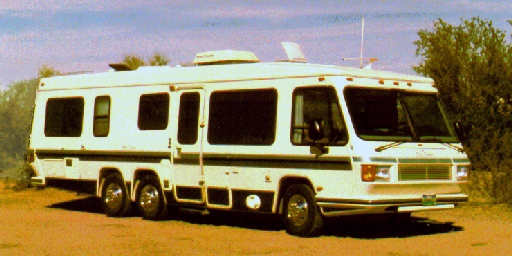 The 29 foot Aero Cruiser comes in Queen Bed and Twin Bed models. The floor plan from the side door forwarded is the same as the 23 foot Rear Bed model. To the rear is a large kitchen area, a separate bath room with an enclosed shower and a separate bed room with a queen sized bed, length-wise down the center or a twin bed on each side.


Floor plan of a 29 foot Twin Bed model with optional drivers side door and a Continental Kit for the spare.
Click to see the 23 footer Floor Plans
---
Introducing the Aero Cruiser
by
Frank DeRemer

This brief introduction is for people who have seen the Aero Cruiser RV and want to know more. Everywhere we go in our Aero Cruiser, people go out of their way to stop us and ask about it.

About 350 Aero Cruiser motorhomes were manufactured from 1988 through early 1992. Most were powered by a Chrysler 360 industrial-application engine, with a four-barrel carburetor in 1988-89 and a fuel-injected throttle body in 1990-92. Perhaps 12 to 15 were powered by a Cummins diesel engine, the same as is found in some Dodge RAM trucks.

Of those 350, most were 23' long with one of three floor plans: Rear Bath, Rear Bed, and Twin Beds.

All have the kitchen in the middle and living room at the front, with turn-around driver and passenger chairs, a third chair (except the twin), custom storable table, and couch. See the 23' floor plans and equipment list web page.

About 15 Aero Cruiser motor homes were 29' long with rear, twin or king-size bed, kitchen and bath in the middle, and tandem real wheels.

Both the 23' and the 29' have single rear wheels, not duals -- usually LT235/85R16 tires. All Aero Cruisers are rear-wheel driven, not front-wheel like the GMC and Cortez RVs, and have air-assisted suspension on the rear, for an adjustable, smooth ride.
The designer-manufacturer of the Aero Cruiser was Gardner Pacific in Vallejo, CA, who also designed and made the Toyota-based Sunrader from about 1978 until 1992 when the company filed for bankruptcy and ceased doing business. After that, some of the molds and parts for both Sunrader and Aero Cruiser were picked up by The RV Advantage, now in Napa, CA, and owned by a previous manager at Gardner Pacific, Dean (& Sandy) Elena.

The original name was Amera Cruiser; however, that name was copyrighted by Greyhound, so it was changed to Aero Cruiser. There are still a few Amera Cruisers on the road but most had their graphics converted to Aero Cruiser.

All Aero Cruisers have a fiberglass exterior, including a one-piece fiberglass top. Preferably they should be garaged; failing that, a cover helps.

When it is kept well polished and waxed, the fiberglass is beautiful. The 1988-90 models were decorated with stripes of black and gray only. The 1991-92 models had larger stripes of blues and greens.

The 1988-89 models had a "Vironex" chassis and some had steering or front suspension problems, so have the front end checked before you buy. The 1990-92 models had a better "LGS" chassis which also have a metal frame instead of the wooden frame found in the older models. All models should have ball joints and front springs checked, as these can be weak points. The front end is from a Dodge pickup, expanded by 10".

The cabinetry was improved in 1991. The nose was made a little flatter in 1992. A few Aero Cruisers were custom made with a few interior variations, especially in late 1991 and early 1992, just before Gardner Pacific went out of business.
When buying or restoring an Aero Cruiser consider upgrading the rear brake shoes from 2 1/2" to 3" -- the drum is already 3" wide. Also, the rear-wheel studs can be increased from 1/2" to 5/8" to match the front, both for strength and so they all require the same torque. The front brakes are disc.

Also consider adding a Gear Vendors "over / under-drive" auxiliary transmission and 4.56 differential gears, for power, gear selection going up grades, and gas mileage.

Gas mileage usually averages around 10 MPG. However, different owners

report mileage in the in the 8-12 MPG neighborhood, depending on the Aero Cruiser and its driver.

A new Aero Cruiser cost over $50,000 in 1990 depending on the options. Twenty years later, prices typically run from a low of about $6,000 for a mechanically sound unit needing work to a high of over $25,000 for a restored unit in great shape. But who knows? Because Aero Cruisers are so unique and attractive to many, and no longer in production, their prices may gradually rise, especially for well-taken-care-of and well-restored units. In other words, they are becoming classics!
Our club members own more than 160 Aero Cruisers, almost half of the units made. The Aero Cruise News, our newsletter, is no longer published; however, past issues are online. Our members only section of the club is chuck full of technical tips, photos from the last rally and information on upcoming events.

We sponsors two or more rallies per year, other informal get-togethers, and caravans to exotic places. The public web site is a great place to start your search for an Aero Cruiser because it typically contains ads for five or more available units at any given time.

The Club also has an extensive list of models and associated feature information that can be invaluable in a purchasing decision. See the Aero Cruiser home page for information on how to join the club.

Finally, the stories of rallies, fun, and other exploits by members are entertaining. The Club members are a group of fun-loving, everyday folks -- mostly retired, but some still working hard! So join the fun, and you too can be cruisin' in a classic.
---
Copyright© 1999-2016
Freelance Ink.
All Rights Reserved.

---
For Sale

Visit the Aero
Cruiser Classics'
For Sale site
to find your
Aero Cruiser