Drive Train: Transmission, Gear Vender, Rear-Axle, Tag-Axle & Differential Tips:

Click on the to go to its Tip:
Engine and Transmission model numbers (off page reference)

Transmission Maintenance

Transmission Fluid Level

Torque Converter Update

Deeper Transmission Oil Pan for cool running

Transmission Cooling

Transmission Replacement

Control Cables – Transmission, Shift Position, Throttle

Transmission & Throttle Control Cables Installation (Article)

How long will our Transmission last?

Transmission Stuck in Park

Driveshaft Viberation

Changing the Oil in Your Gear Vendors (Article)

Gear Vendors oil leaks

Differential Oil Level

Wheel Bearing Grease Seals

Drive Axle

Tag-Axle

Rear-End/Differential Ratios




-- Disclaimer --

Information on this Web Site is provided by members of the "Aero Cruiser Classics" Motor home Club. All information on this site is contributed by the club members or outside sources and is believed to be reliable; however, there is no warranty or guarantee that said information or advice is correct or free of defect. It is offered on a best effort basis and is to be used at your own risk.

---
Tips:
Subject: Transmission Maintenance

Tip: We can not overemphasize how important it is to use a reputable shop to do any maintenance on your vehicle, especially your motor home. Our member Gordon Bailey had a recent experience that shouldn't happen to anyone. He went in to have his transmission serviced and was told that he had to replace his torque converter. When Gordon declined, the service manager did all he could to get the work. Gordon wanted to get the work done by someone he could trust so he went straight to Harris Hartman for assessment.

When they drained the transmission fluid, they noticed it looked like strawberry milk shake in color. Knowing that this is caused by water, they checked the radiator cooler, the only possible source of water besides a garden hose. The cooler did not leak. Fortunately, Gordon did not drive in that condition for long and no harm was done but could have lead to a major repair.
Other things to remember about you transmission when performing the service:
Burnt smell of the fluid indicates overheating and comes from the phenolic washers;
aluminum flakes on the bottom of the pan are common and not an indication of problems to come; brass flakes indicate severe ware of the thrust washer in the torque converter and is the indication of problems to come. Consider replacing the torque converter.
As good as our transmissions are, they too ware out. Expect repairs between 65 and 75 thousand miles. Remember, you must come to a complete stop before changing directions from forward to reverse or reverse to forward. If you don't, you risk major damage including cracked transmission case.

Update: I have my transition services every 20,000 miles by a shop that specializes in transitions. I have had problems having it serviced by local shops or service centers. Yes, a shop specializing in transitions will cost more, but it's cheaper than a new transition.
Keep on Cruisin', Tom Heald


Return to the Tip List.
Subject: Transmission Fluid Level

Tip: The Transmission Dip Stick tells you what fluid to use and how to check the fluid level in general. Here's a little more detail! When checking the fluid level the engine must be running at a fast idle (but not racing) and the transmission in neutral (not park). Move the selector slowly through the gears and back to neutral to circulate the fluid. When cold, the fluid should be between the two notches, when hot it should be in the hashed area of the Dip Stick. When changing or adding fluid, use Dexron III Automatic Transmission Fluid.
Keep on Cruisin', Tom Heald


Return to the Tip List.
Subject: Torque Converter Update

Tip: Harris Hartman gave us additional information on torque converters and showed us the condition of the internal parts. You can expect the torque converter to go bad any time after 65,000 miles as a rule of thumb. On the other hand, he showed us the condition of parts from George Tropman's converter which had 107,000 miles and parts looked like new. The only explanation is that some converters were assembled with ideal part tolerances and worked better than those where tolerance stacked up high. From his experience, Slick 50 oil additive, has no beneficial affect on the transmission.


Return to the Tip List.
Subject: Deeper Transmission Oil Pan for cool running

Tip: For those interested in keeping the transmission cooler the below link is for a vented deeper transmission oil pan. With a wrapped exhaust, an auxiliary oil cooler that is fan driven and thermostatically controlled to turn on at 175 degrees, I have been able to keep my transmission in the 110 to 150 range even when pulling a grade and the engine temperature has risen to 235 degrees.

The deeper pan can be found under: Our transmissions are 727 models.
http://www.derale.com/pans.html (read warning below before ordering)

Derale Transmission Pan Coolers use the air flowing beneath the vehicle to reduce fluid temperatures from 20°F to 50°F. Features include heavy-gauge stamped steel construction, patented turbulator cooling tubes and a zinc plated finish. Increases fluid capacity. Replacement pan gasket included. If you add the pan, get the kit to add a temperature sending unit and gauge. The fan / oil cooler combination is the model below and purchased from the below company. http://stores.ebay.com/AtlanticSpeed-Performance-Parts
Rodney Michaelson
Warning: Be aware that on my 1990 Aero Cruiser (and most others) with dual exhaust the position of the exhaust will not allow a deeper transmission oil pan to be installed. Check before you order. If you have your exhaust system replaced have it relocated to allow clearance for a deeper transmission oil pan.
Keep on Cruisin', Tom Heald


Return to the Tip List.
Subject: Transmission Replacement

Tip: I had a local transmission mechanic with a good reputation rebuild mine and had nothing but trouble afterward.  He obviously didn't know the 727 well -- but at least the price was high: about $1600. 

After the rebuilt transmission burned up and I gave up on that mechanic, I found TCI Automotive (TCIauto.com) and bought one of their 727s rebuilt specifically for RVs for less than $900 including shipping (bought through SummitRacing.com, for the best price).  I did the swap myself this time, but that would have cost about $400-$500 for a mechanic to do it.  The transmission works very well.  It has stronger bands and clutches.  It has a shift kit that makes the shifts stronger and allows shifting down to low at higher speeds/RPMs.  Only 100,000 miles will tell for sure, but after 1600 miles, I am very happy with it.
TCI's customer support staff tell me that the transmission fluid temperature should be as low as possible, for a long life.  The transmission coolers and fans confirm this.  They say never to allow the temperature to get above 225 degrees in the pan (where most people put the sensor), and 120-170 is preferable -- the cooler, the better.  I have a sensor both in the pan and at the output of the transmission.  The pan gets up to 220 degrees only on a long hill; at that point the fluid coming out of the transmission is about 260.  Thus, my single 11"x11" transmission cooler is reducing the temperature by 40 degrees.  After the hill, the temp. in the pan goes down to about 120.  That is with only the one cooler and NOT going through the radiator heat exchanger -- with the latter the temp. would always be about 200 at minimum, unless the cooler is after the radiator exchanger, in which case it would be no lower than 160 or so.  Thus, I start up a hill at 120 degrees rather than 160, and the single cooler seems to keep it from going over 220.
Frank DeRemer


Return to the Tip List.
Subject: Transmission Cooling

Tip: Tom Heald reported that he had a situation some time ago where the transmission cooling-coils/pre-heater at the bottom of the radiator got clogged and caused the transmission to overheat and fail. His auxiliary oil cooler could not help because there was no transmission fluid running through it since the two coolers are normally in series.
The fix was a new transmission and the transmission cooling-coils/pre-heater in the radiator was bypassed. This is ok in a warm climate but is not a good idea in colder climates where the radiator is used to warm up the transmission fluid.
Dragi


Return to the Tip List.
Subject: Control Cables – Transmission, Shift Position, Throttle

Tip: The original manufacturer is Control Cables, Inc. and they are still the best source for these cable. Their website is www.controlcables.com, E-Mail
sales@controlcables.com and their phone number is 562-949-0455.

Control Cables Inc.
9816 Alburtis Avenue
Santa Fe Springs, CA 90670
If you look at the news letter of July 1996, you'll see the following part numbers. All prices are in 1996 dollars.
Transmission cable 173VTT-3-144 $51.91
Shift Position Indicator for the LSG chassis PCGT-65-SP $22.49
Shift Position Indicator for the Vironex chassis PCTT-65-SP $22.49
Throttle cable for fuel injected engines 173VTT-120SP $48.23
Throttle cable for carbureted engines 173VTG-2-108SP $42.72
Note: It has been reported that the throttle and transmission cables normally give up the ghost at around 66,666 miles.

The devil or some other form of gremlin gets to them!

Some members have ordered spares for their rigs which is a great idea; because, just having them onboard seams to keeps the gremlins away.

Update: For information on "How to replace the Cables" plus how to protect them from the heat that burns them up and 2008 prices just click on the link. Keep on Cruisin', Tom Heald
Update: The throttle cable on my "new" '89 rear bed cruiser broke so I decided to replace all three. The 2011 price for the throttle cable for the carbureted engines is $57.78. The transmission cable is $65.79 and the shift position cable for the Vironex chassis is $30.68. -- J.


Return to the Tip List.
Subject: How long will our Transmission last?

Question: I have a 1992-23' Aero and my mechanic (who I trust) tells me these trannys often go out at around 65,000 miles. What has been your experience on this? I read the tech messages but did not find anyone addressing this matter. I DO NOT want to get stranded with a bad tranny...
Mike Farr

Answer: Mike: Sounds like your mechanic doesn't know these transmissions well after all. Few in the Aero Cruiser Club have failed. Many have more than 100K miles. Mine was abused and still lasted to 100K. I had a bad experience with a local "expert" who claimed to know the 727 and how to rebuild it. $1600 later I got a factory rebuilt 727 from TCI Automotive (http://www.tciauto.com/amc_chry/ amc-chry_torqueflite.htm; scan down to Transmissions). It shifts better than the original and has heavier-duty parts in it. If you do, for any reason, decide to replace the tranny, I highly recommend TCI and regard locals as risky. I think I only paid about $900 for it (through Summit Racing?). No core charge. I installed it myself, but that shouldn't be more than about $250 or so.
Frank DeRemer

Update: I have my transition services every 20,000 miles by a shop that specializes in transitions. I too have had problems having it serviced by local shops or service centers. Yes, a shop specializing in transitions will cost more, but it's cheaper than a new transition.
Keep on Cruisin', Tom Heald


Return to the Tip List.
Subject: Transmission Stuck in Park

Tip: If you find yourself stuck in the park position, it probably happened because your coach rolled after you put it in park. To relieve the pressure on the transmission gears, block the wheels so it can't roll and lift one of the drive wheels off the ground to relieve the pressure on the transmission.
#102 Kinnison


Return to the Tip List.
Subject: Driveshaft Viberation

Question: I just got through having a Gear Vendor installed along with a rear end ratio change from 4.10 to 4.88 in my 1989 23'Rbd. The coach has a drive line associated vibration that starts at 40mph, intensifies between 45-54mph and disappears at 55mph. I took it back today and had the drive shaft re-ballanced, which helped but not significantly.

Answer: AZ Driveshaft, in consultation with Dana/Spicer, came up with a solution --- they made a new driveshaft with a reduced diameter. Down from 4" to 3 1/2". What little vibration is left seems to be associated with the motor/transmission since it disappears when put into neutral. Thanks to Rod's info on the members website, I've ordered a new set of coil springs for the front and will see what can be done about the rear leaf springs. Hopefully, they are the Chevy P30 springs mentioned in the members section.
AZ Driveshaft deserves credit for going all out for a solution with little additional cost. See " Front and Rear Suspension Improvements -- Update" more information and the final solution.
John


Return to the Tip List.
Subject: Gear Vendors oil leaks

Tip: If you overfill your Gear Vendors with oil, the access oil will blow out the vent hole giving the appearance of rear oil seal leak. The factory reports that in all the years and units in service, they had very few seal failures; so, before you go replacing the seal, make sure the oil level is correct (should be below oil check hole) clean the entire area and check for leaks after driving for a while.


Return to the Tip List.
Subject: Differential Oil Level

Tip: Checking your differential oil level should be a regular part of your maintenance. This fluid not only lubricates you differential but your drive axle bearings as well. Several coaches have lost their rear wheels and axles where poor lubrication may have been a contributing factor.


Return to the Tip List.
Subject: Wheel Bearing Grease Seals

Tip: When servicing your bearings, it is a good idea to replace the grease seals. A bad wheel bearing seal on the front can result in moisture getting into the bearing causing rust and burn out of the bearing. Rear is not as critical since the differential oil keeps the bearing lubricated, HOWEVER, if it leaks, the grease will get on the brake shoes which is not a good thing. It is a small investment that will save you down the road.


Return to the Tip List.
Subject: Drive Axle

Tip: We Have had another case of losing a left rear wheel. Lack of wheel bearing lubrication (pre-lubrication or differential grease too low - after brake repair). Gary had to have the rear axle spline replaced on his axle. The Aero Cruisers have a non standard Spicer/ Dana Axle assembly due to the length. New ones are not available.
Gary was told the spline was from a Dana/Spicer H-50. All the information George got from Dana/Spicer was Aero Cruisers had a H-60.??? This was based on actual manufacturing numbers stamped on his 1992 axle housing which he gave to them during their discussion.
#384 Smythe


Return to the Tip List.
Subject: Tag-Axle

Tip: On the way to Zion Spring rally, Frank was moments away from loosing his right tag axle wheel. Fortunately, Dragi was following him and when he noticed smoke, he called Frank on the CB and told him to pull over. When Frank lifted the coach and Dragi tried to check the wheel, it literally fell into his hands. Closer examination revealed that the axle nut did not have a locking plate. Over time, the nut backed off and the wheel almost fell off.
Frank and Dragi were able to make a quick repair (in 110° F temperature) and continue the trip.
#109 Fries


Return to the Tip List.
Subject: Rear-End/Differential Ratios

Tip: Below is an Excel spreadsheet image that presents an analysis of rear-end ratios, which I did before selecting 4.88 as what I though might be the best for my 29-foot Aero Cruiser. Actual results are very pleasing to me.  My speedometer reports three fewer miles per hour than I an actually going, so 60 MPH is really 63 MPH.  Here are some figures showing what the speedometer reads:  at 60 in 3rd-over the engine is doing 2600 RPM, at 55 -- 2400, at 50 -- 2200.  For many hills I can now get over them by just pushing the accelerator down.  With the 4.10, I had to shift down even for overpasses!  As I start up a steeper hill in 3rd-over, I slow to 55 and the RPM drops to 2500 (not 2400, as on the flat, because the torque converter slips, explaining the extra 100 RPM).  At that point, if the hill continues and I am still loosing RPM, I can shift down to 3rd gear, and my RPM increases to 3000, right in the middle of the power band (2800-3200 where the torque curve peaks).  Perfect!  If the hill is even steeper, I can shift down to 2nd-over instead of 3rd, and the RPM goes up to 3200 (from 2500) -- just what is needed for steeper hills.
And to add frosting to the cake, my gas mileage on the trip to Quartzite increased by 10%!  Why?  My theory is that with the 4.10, 3rd-over was useless, but in trying to get better gas mileage, I was using it anyway and trying to stay in that gear too long, so the engine was eating gas trying too hard (with my foot to the floor).  I was always below the torque curve (about 2200 RPM at 60 in 3rd-over).  Now, although the engine is typically going at higher RPMs, it is closer to the power band and when I need power, down-shifting gets me right in the band.  My conclusions, then, are: (1) 4.88 is a very good ration for 29-footers and should also work well for 23s -- with a Gear Vendor, and (2) whether you have a GV or not, to get good gas mileage, don't get below 2600 RPM unless you are on the flat or going down hill and/or have a strong tail wind.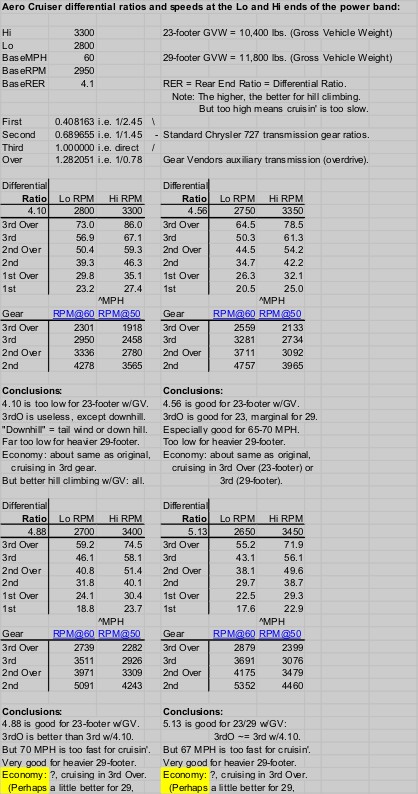 Frank DeRemer


Return to the Tip List.
---
Copyright© 1999-2016
Freelance Ink.
All Rights Reserved.

---