Hubcaps, Wheels, Tires, Brakes, Air Bags, Chassis, Shocks plus Front and Rear Suspension Tips:

Click on the to go to its Tip:
Front and Rear Suspension

Aero Cruiser Chassis and Front and Rear ends

Helper Spring -- Transverse Leaf Spring

Front-end Alignment Specifications

Front and Rear Suspension Improvements

Upper Control Arm, Ball Joint and other Steering linkage

Lower Control Arm Design Problem and how to Fix it

Front Tire Misaligned (Suspension Problems)

Has anybody put Dual Wheels on a 23 footer?

Coil Spring Stabilizer

Coil Springs for the Front Suspension

Shock Absorbers, Front and Rear

Air Bag Pressure

Air Bag Leaks

Replacement Air Bags

Tire Tips

Check your Tires for Cracking

Old Tires can KILL you!

Nitrogen has several major advantages over Air in Tires

New Tires

What is the Tire Air-Valve for under Front Hood?
Flat Tire? Use the Air Bag Compressor to fill it up.

Front Wheel Brake Rotor & Hub assembly

Aero Cruiser Brakes and Brake Upgrade (Article)

Brake Valves - Diagnosing Hydraulic Brake Problems (Article)

Brake Calipers & Pistons

Brake Lines

Brake Pads may fail before they are worn out

Brake Fluid Explained (Article)

Brake Fluid

Brake Fluid Level

Brake Fluid Reservoir

Hot Brakes

Parking Brake

Rear Brake Adjustment

Tow Vehicle Braking System

Lug Nuts

Wheels Lug Studs

Alcoa Aluminum Wheel, Lug Nuts & Studs

Alcola Aluminum Wheel Recall

Alcola Aluminum Wheel Hole size

Aero Cruiser Lug Nut Torque Settings from Chrysler

Torque Settings for Lug Nuts is Critical on Aluminum wheels

How good are Alcola Aluminum Wheels?

Hubcaps

Hubcap -- Check Air-Pressure without removing Hubcaps




-- Disclaimer --

Information on this Web Site is provided by members of the "Aero Cruiser Classics" Motor home Club. All information on this site is contributed by the club members or outside sources and is believed to be reliable; however, there is no warranty or guarantee that said information or advice is correct or free of defect. It is offered on a best effort basis and is to be used at your own risk.

---

Tips:
Subject: Aero Cruiser Front and Rear Suspension

Tip 1: Everything in the front end is from a D350 Dodge full size pickup that was extended 8 inches and has a Helper Spring mounted below the axle. All of the electronics and the components in the dashboard are also from Dodge full size pickup. The rear end, axle is a Dana 60 by Spicer. Read through in information on our web site -- http://aero-cruiser.fl-ink.com/ac-29ft.htm -- for more details.
Keep on Cruisin' -- Tom Heald

Tip 2: A letter from Aero Cruiser, May16, 1990 states: The front suspension is all Chrysler except for the transverse leaf spring which is a Hellwig product, The shocks are Monroe. The rear suspension uses Chevy P-30 leaf springs, the sway bar is Hellwig and the air bags are Firestone. Alignment specs are Toe 1/2 degree, Camber 1/2 degree passenger, 0 degree drivers, Caster 3 1/2 + both. The springs on my Aero cruiser are under the axel.
J. D.


Return to the Tip List.
Subject: Aero Cruiser Chassis and Front and Rear ends

Question: Where is the chassis number, I need it to get the right parts for the suspension.

Answer: The Aero Cruiser a custom chassis so a chassis number will not help you find parts. The 1988-89 models had a "Vironex" chassis and some had steering or front suspension problems, so have the front end checked before you buy. The 1990-92 models had a better "LGS" chassis.

See tip "Aero Cruiser Front and Rear Suspension" also.
Keep on Cruisin' -- Tom Heald


Return to the Tip List.
Subject: Helper Spring -- Transverse Leaf Spring

Tip: The Helper Spring or more properly the Transverse Leaf Spring is mounted under the front axel to help carry the load. It is not part of the Dodge D350 front end. It is from Hellwig, however they don't make it any longer. If anybody finds a replacement, please let me know so I can post it here.
If you need one the best alternative is to replace the front coil springs with a pair of Heavy-duty springs. I ASSUME that when the Aero Cruiser was designed they felt that they needed heaver springs on the front end, They could have replaced the coil springs in the D350 Dodge full size pickup front end they purchased from Chrysler, but it was probably cheaper to add the Transverse Leaf Spring from Hellwig. So I ASSUME that's why they they did it.
To pick the right size coil spring, take your rid to a public scale and weigh the front end with only the front wheels on the scale. Then you can check for "coil springs" of the proper size to support the weight.
Keep on Cruisin, Tom Heald



Return to the Tip List.
Subject: Coil Springs for the Front Suspension

Question: The problem, I have uncovered is in the front end. Turns out I need front springs and shocks. The shocks are easy. The front coil springs are not. We had DODGE deliver front springs for their 1988 1 ton pick ups, 1 ton vans, etc. We had a total of 4 different coil spring sets delivered to the garage so that we could match them up and be sure we had the correct springs. Every spring from DODGE had 9 coils. The front springs in the AC have only 8 coils. So, the front coil springs are NOT stock from a 1988 1 ton pick up and my search for coil springs continues. Toni

Answer: I called "Betts Springs in San Leandro, CA" and talked to Mark. We do a lot of work with them. They are one of the largest Spring suppliers in the West.

Check with your repair shop and see if his B7172SD
8 coil, 14 inches high, .82 diameter wire coil springs should work.

Your cost would be $110.73 for the set.
510-633-4500
Rod


Return to the Tip List.
Subject: Front-end Alignment Specifications

Question: Does anyone have the alignment specs fro the LGS chassis (1991) I am replacing all my bushings so will need to re-setup the alignment. Also, are there better polyurethane style bushings (or a complete kit) for this suspension?
-- Rick

Tip 1: Assuming my 92 has the same LGS chassis as a 91, I shortened the radius bars to gain more castor to improve straight line stability and to heck with tire wear, I have 6.9 degrees left front and 6.3 right Front of castor. The Dodge B300 specs called for 1.3 to 3.8.

.1 degrees Camber both sides, -.6 to .6 is the Dodge specification

My Tow is is .6 both sides and specs for the Dodge is -.13 to .13

Cross camber is now 0.0 and cross castor is .6

These settings are what a local large chassis Truck expert recommended. Meant to accommodate Indiana highways that crown quite a bit, and I still have a slight right pull.

He also advised me that Poly Bushings in the upper and lower a-arms have a tendency to squeak on heavy vehicles, and advised against them. I do have Poly bushings on the front and rear sway bars and all of the end links...
-- Andy
Note: See "Aero Cruiser Front and Rear Suspension" Tip 2 also.

Tip 2: I can confirm that alignment should start with maximizing castor, per a
so-called expert. On my prior 1990 23-footer, we were able to get about 4 ˝
degrees of castor, then set the rest. It drove pretty well.
-- Frank
Tip 3: Read the tip Front and Rear Suspension Improvements for more info on the suspension and what you can do to improve castor.
Keep on Cruisin', Tom Heald


Return to the Tip List.
Subject: Front and Rear Suspension Improvements

Tip: These improvements have been made on a trio of Gardner's best, at George Digilio's house in Phoenix in early January 2008. George Kinnison (long wheelbase '92) and myself (short wheelbase '92) paid a visit to Mssr. D's, where he installed his fine new heavy-duty rear (truck) airbag suspension on George K's rig (he had done mine a few weeks earlier).


The following picture shows the new airbag suspension which replaces the original Aero Cruiser rear suspension. Thank to Frank DeRemer for the picture.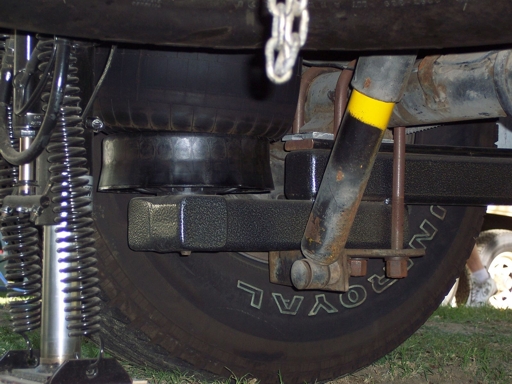 Then we both had some EXTENSIVE front suspension work done at PAS in Phoenix - Chris Cross at the helm of that fine establishment! I had a new Super Steer Bell Crank installed, along with a new center link, upper/lower ball joints, upper/lower A-arm bushings, and new set of 3451 lb. Severe Duty front coils. Thanks to George D, we cut 1/2" out of the front radius rods, which allowed ~4 degrees of castor to be dialed in; the "hot tip" for stable, on-center steering. From there, it was a fine drive back to SoCal, with 70-80 MPH the whole way - pretty much one hand on the wheel!
Contact Information:
PAS Auto Repair
3142 Grand Ave
Phoenix, AZ 85017-4912
Telephone: 602-254-8521
Contact: Chris Cross

Question: Could you explain what was cut and where?
Thanks, Herman in Oregon

It's pretty simple, really - the radius rods which connect the lower A-arms to the front of the frame are "relieved" of 1/2" of material, then "sleeved" with some chrome-moly tubing and welded. Really doesn't matter WHERE they're cut, though we did 'em up near the frame mount(s). This allows the lower A-arms to be "pulled forward" more
than stock, which in turn allows for bigger castor #'s (~4 degrees positive) than you could get via turning the cams on the control arms. Positive castor tends to make the vehicle want to "self-center" and track dead straight (assuming otherwise good front/rear suspension components, of course) - I also found that my coach wants to "self-correct" much more quickly after being hit by the inevitable crosswinds or the side drafts of passing vehicles...

I DO think it's critical to make these changes "in concert" - tight front/rear suspension, a new bell crank, new springs, etc; otherwise, you're just applying a band-aid...
Joe Ganzler

Update:&nbsp I took my 89 A-C to Spectrac in Mesa, AZ yesterday to have all new springs installed. I'd previously ordered a set of front coil springs from Betts p/n BC B7172SD based upon a tip in the member's section. It turned out that the Betts spring was way too light -- smaller wire size that what was already installed and shorter. Spectrac's owner, Jerry, said he'd worked with a number of Aero Cruiser owners in the past to develop solutions to various suspension problems. I ended up with their specially made coil fronts p/n 350-5786SD, which were two wire sizes up from what was on the coach, and new heavy duty rear leaf springs p/n 22-617HD. The result was worth the expense with the coach now riding level and 1 3/4" higher overall with 10# less per side on the airbags at 20# rather than 30#.

I had hoped for additional reduction in driveline vibration due to the small increase in angle created with the higher lift given by the new springs. However, it made matters much worse. AZ Driveshaft had previously installed a 1 1/16" spacer to raise the tailshaft, which did nearly eliminate the driveline vibration prior to installation of the new springs. Today I had a local welding shop make two new 1/4" spacers to replace the larger one. The 9/16" reduction in the spacer height has apparently eliminated the driveline vibration. I intend to do some more drive tests to confirm this initial impression.

It's surprising to me how sensitive to angle the driveline system is.

Thanks to all for your suggestions. I did try to contact George Digilio regarding the trailing arm air bag suspension, but never received a response.
John,


Return to the Tip List.
Subject: Upper Control Arm, Ball Joint and other Steering linkage

Tip: The Upper Control Arm from my 1990 23' Rear Bed Aero Cruiser broke halfway down the Hood Canal in Washington the end of May. The standard Control Arm for the Dodge chassis 1 Ton was not the same as the Control Arm on my rig. Not even a close match.

I had on my own, several people doing research for the part, a mechanic, two auto part stores as well as the Brazel's R.V. repair shop where the rig ended up for better than a month while the search continued. Finally Brazel's RV ordered the part that was suppose to match the year, make, and model. Here is their report.

They found new control arm for 1990 Dodge full size van/pick up. This control arm was the closest that we could find. We removed the bad section of the old control arm and mounted the new section in its place. Then installed Ball Joint into new section of the control arm.

I was in and out of the shop during this time checking on the process. Brazel's is highly recommended for R.V repairs in the Pacific Northwest and feel they went over board in helping me get back on the road. The Upper Control from Car Parts Warehouse.com Part # 93-00645, Upper Ball joint Part # 505-1189 from Car Quest.com.

I feel this is important for the Cruiser folks it was reported to me that although rare it was caused by wear. (should be on the yearly vehicle check out) -- Sandy
Update: I found a supplier for replacement of the idler arm/bell crank assembly on Aero Cruisers and Amera Coachs. As luck would have it, John at Henderson's Line-Up in Grants Pass Oregon knew just what I was referring to. His sister owned an Aero Cruiser until just recently (loved it). The P3032 replaces the original one (original part number: 3941740. Go to -- Henderson's line up -- for picture and info.
Gregg Patten; 1990 Ameracoach II 23RB.

George, Let me know how this works out. Looking at pictures, I am not convinced that this will work. I hope I am wrong. Please send me before and after pictures if you can. Good luck.
Keep on Cruisin', Tom Heald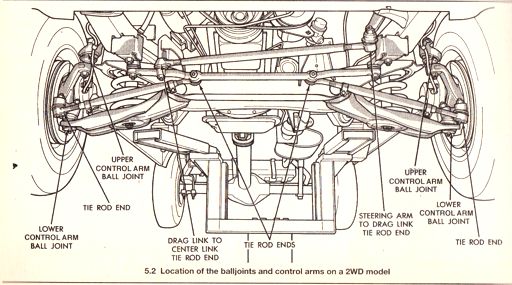 Picture from Haynes Repair Manual
Also see Front Tire Misaligned (Suspension Problems)

Return to the Tip List.
Subject: Lower Control Arm Design Problem and how to Fix it

Tip: Lower Control Arm has a design problem in the way the Hanger Bracket is attached to the frame. The bracket is riveted to a plate and then that plate is welded to the frame. It's not strong enough and a crack develops by the rear rivet as seen below. The crack can be seen below the "Crack below" label. The first layer below the label is the frame, the second is the mounting bracket plate and the last layer (below the crack) is the mounting bracket. You can see some of the broken weld on top of the Lower Control Arm Bracket below the crack.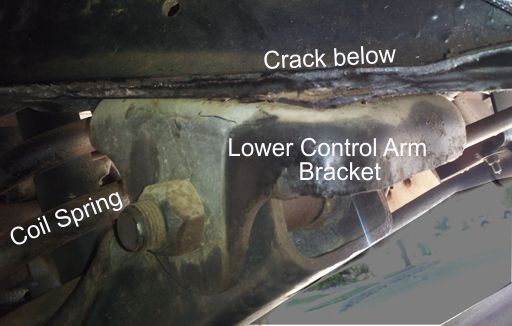 It's not obvious in this picture but the frame is cut out to accommodate the rivet head. To fix the problem the rivet needs to be drilled out and replaced with a bolt and a large washer above the frame so the bolt goes through the "Lower Control Arm Mounting Bracket", the mounting plate and the frame pulling them back together. Then the cracked area should be welded along with the other corners of the Lower Control Arm Bracket just to be on the safe side.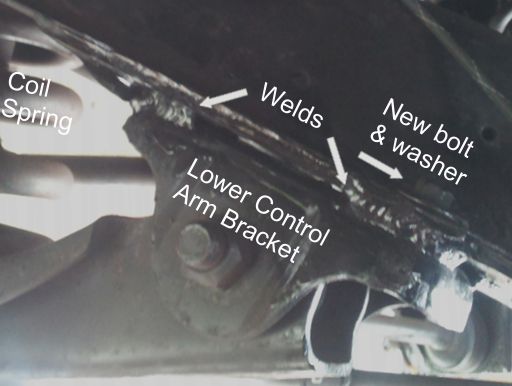 I had the same problem back in 2003 on the other side only I didn't catch it in time and the Lower Control Arm Bracket broke away from the frame. Go to the tip Front Tire Misaligned (Suspension Problems) to see more pictures and how it was fixed on the passenger side.
Keep on Cruisin', Tom Heald


Return to the Tip List.
Subject: Front Tire Misaligned (Suspension Problems)

Question: Just looked at my passenger front wheel and tire. I do not recall it ever being so far toward the rear of the wheel-well. It will likely rub (and has a little bit) on the back of the wheel opening.

Has anyone seen this before? What should I check....just had the bearings repacked, but that wouldn't account for this amount of shift.
Thanks, Rick

Answer: Have you ever heard a loud bang when you backed up? I did once on July 3 in Needles, CA. My grandson and I stopped for lunch on our way home from the Grand Canyon. When we left the restaurant there was a big bang when we backed up. We both jumped out of the Aero Cruiser and looked around. There was nothing! We didn't hit anything and could not figure out where the bang came from.


I drove another 200 miles and when I stopped for gas I noticed that the left front tire was almost worn out. Apparently it was misaligned and scuffing.

When I went to change the tire I noticed that the "Lower Control Arm" for the front wheel suspension had pulled lose where it had been attached to the frame.

The rivets that hold it to the frame had pulled out! I found a mechanic to fix it the next day in Majove, CA. He replace the rivets with bolts and told me he has seen the problem before and it almost always happens when backing up.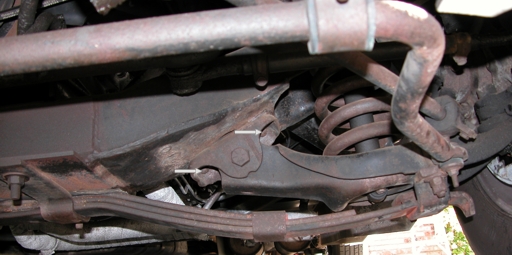 This picture is a 1990, 23 foot Aero Cruiser with a 1989 engine and Chrysler front-end on a LGS Chassis. To spot the problem look behind the front wheel. The coil spring is mounted on one end of the "Lower Control Arm". The other end has a pivot point with a mounting bracket that is riveted to the frame. The arrows point to two of the four rivets that pulled loose. It took a few hours and about $200 to fix on the Forth-of-July Holliday in 2003.

Note the Helper Spring which runs from side to side under the axel.
Note: Earlier Aero Cruiser models have a "Vironex" chassis with a front end that was extended 10 inches. I believe it has the same problem as the later models on a LGS Chassis but I don't know for sure. According to the Haynes Repair Manual that I have, all Dodges from 1974 through 1993 have the same independent suspension as shown below.
When I arrived home I purchased new tires and had the front end alignment checked. It was OK

and I haven't had any problems in the nine years since.


Keep on Cruisin', Tom Heald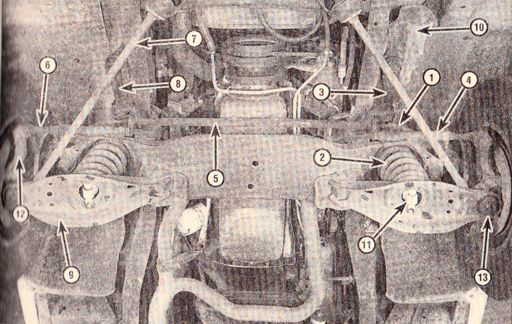 Picture from Haynes Repair Manual of a typical Dodge D350 suspension found in our Aero Cruisers. Note the riveted Control Arm mount which is the same as the one shown in the picture above.
1) Upper control arm
2) Coil Spring
3) Pitman arm
4) Tie-rod adj. tube
5) Center Link
6) Tie rod
7) Strut Rod
8) Idler Arm
9) Lower Control Arm
10) Steering gear
11) Shock absorber
12) Steering knuckle
13) Ball joint
Also see Upper Control Arm, Ball Joint and other Steering linkage


Tip 2: As noted by others, my 92 has a traditional lower control arm from Dodge as opposed to the unit that has the riveted bracket for the control arm. If I had a unit with this setup, and if the unit aligns properly and appears to be in the factory location. I think a good welding shop would be my next visit. I'd secure it's location with a bead weld, leaving the original rivets in place. Andy

Comment: Since you and I have the forward axel of the last models, Andy, our setup is probably not typical of the other A-Cs. And we know that G-P made indiscriminate changes as production rolled along.

Mine is the diesel and I have a straight axel off a 1-ton GMC 4WD. I have no A-arms at all and very long leaf springs. Almost dates back to the horse carriage days.
-=Dale=-


Return to the Tip List.
Subject: Has anybody put Dual Wheels on a 23 footer?

Question: We are in process of making this 89 coach our third motor home. Do you know of anyone who has put dual wheels on one of these? If so what type wheel-set. I just feel a lot safer running duals on the rear, it seems like they would offer more stability. Would appreciate you answer and comments, Looking forward to being a club member. Thanks for you site and the info you provided. Again thanks, Sam

Answer: Dual wheels are not added for stability, they are added for load. Most motor homes with dual wheels are built on truck chassis. They use 2 smaller tires instead of one larger tire to give a lower flat-bed for cargo carrying while supporting a given weight. The result is a higher ground clearance. The Aero Cruiser is designed as a low profile motor home with a much lower ground clearance and center of gravity. It's tires are designed to support a certain weight at a specific tire pressure.
To know what the proper tire pressure is for each wheel, they should be weighed individually. Then one can look up the proper inflation level in the manufacturer's tire chart based on the wheel supporting the most weight on a given axle. Wheels on the same axel should always be inflated to the same pressure. Over inflated tires cause a rough ride and lead to irregular and premature wear and the tires do not hold the road as well.
On the Aero Cruiser most owners have found that 60 pounds in the front and 75 pounds in the rear work best for most tire manufactures. If you over-inflate the front tires your rig may tend to wander on the highway and you may have a tendency to over steer. If you under-inflate, you will get poor tire wear and you may blow a tire.
Other members have gone to a larger tire size that supports more weight and allows for a lower tire pressure giving a softer ride. That's fine as long as you go by the book, the Tire manufacturer's book that is. Be sure to check if your Aero Cruiser has large enough wheel wells to allow for larger tires. Most Aero Cruisers don't!
Keep on Cruisin', Tom Heald.
Update: I agree but adding that the extra wheel in the rear is also a safety factor. It is usually the rear wheel that catches road debris and goes flat or ruptures.

On the other hand, duals would also require a modification of the wheel wells at the cost of interior space. Also a dual-wheel rim hub has a 6in or more negative offset so the two rims can be mated together. That means the front singles would do the same and you would have a 12" or more narrower track. A front axel modification would also be needed. Although spacers are available for that purpose, the bearings are not designed for that much camber stress.

So in the end, the question is "Why would anyone want to convert to duals"?
-=Dale=-


Return to the Tip List.
Subject: Coil Spring Stabilizer

Tip: If your front end is sagging or is not as hard as it used to be (ha-hum), you may try a ring type nylon-reinforced rubber coil spring stabilizer sold by J. C. Whitney for $8.98 each. Part No.84-0661.


Return to the Tip List.
Subject: Shock Absorbers, Front and Rear

Question: My coach is in the RV shop and it needs all the shocks replaced. They
know what to replace the front with but the rear are Brazilian and they cant find a cross no. Any suggestions would be appreciated.
Thanks- Russ

Answer: The shocks are not necessarily the same as the ones used on a Dodge D350 full sized Pickup. The shock mounts between axel and frame and none of the Aero Cruisers used a Dodge frame. There were 4 different configurations. The Vironex, the LGS, the 29 Footer with its tag axel and the Diesel with its unique axel. To further complicate the issue, the Front Suspension from Chrysler changed from time to time depending on what was available when they built your rig. Maximum extension and minimum compression are what's important. My diesel has aftermarket KYBs and they work, but I don't know that they are the right ones. They may be restricting the axel movement. If anyone has information on Shocks Absorbers for their particular model, post it online or send the information to Tom Heald Tom@FL-Ink.com so he can post it here.
-=Dale=-
Updates: New Shocks in my '90 coach. Well they're in. I haven't test driven it yet, but at $350.00 parts and $340.00 labor -- in 2011 -- I will tell myself that it floats. Front-Monroe#911096, Rear-Monroe#34910. Hope this info comes in handy.
Thanks for the help---Russ

Shocks for my 92 A/C: I believe the fronts are Bilstein AK-1200 available for $52.00 each at http://www.autopartsdealer.com The rears for my 92 are B46-0248 available for $60.00 each from same place in 2011.
allthingsitandy
Update: OK, just heard back from Bilstein. Their morothome shock is the B5 series which has a heavier piston. All of the B5 series require a 3/4in stud mount. I believe the Cruisres have a 5/8 and I'm not sure about the FMCs. So if you are thinking Bilstein, you may have to change the stud mounts.
-=Dale=-

Update: As explained in the Answer above, the shocks listed above may not apply to all coaches. To find the proper shock for your rig you need to measure the shock extended and compressed and take into account the weight on the front and rear ends. A good place to start is online:
KYB --------------------- http://www.kyb.com/
Monroe ------------------ http://www.monroe.com/
Road King MH shocks --- http://roadkingshocks.com/shock-absorbers/
motorhomeshocks.html
To name just a few. This is not an endorsement of any specific shock.
Keep on Cruisin', Tom Heald


Return to the Tip List.
Subject: Air Bag Pressure

Tip: Acceptable air loss to leakage is about 10# in two weeks. If you have more than that, you may have an air leak. Check all fittings to find the problem. If you need spare parts for the Firestone system, contact: 3T RV Products, 1055 Empire Rd in Lake Havasu City, AZ. 520-453-3040 and ask for Jerry or Rich.
Air pressure should be maintained between 20 and 30# for nominal performance. Frank DeRemer did experiments and is a good source of specific information.


Return to the Tip List.
Subject: Air Bag Leaks

Tip: If your air bags don't hold pressure, check fittings for leaks. Lon Waterson is a good source for information if you have specific questions. Lon recommends that the bags be pressurized to a max before storage.


Return to the Tip List.
Subject: Replacement Air Bags

Question: I blew an Air Bag, where can I get parts? Hit a big hole in the road and KaPOW! I have no info in my notebook on air bags. Do you know what kind they are or could you send me to the person who might know. When I called Eric's R.V. today to talk about them he says crawl under the rig and then let me know what you see as there are 2 kinds you could use on the Aero Cruiser..... Well, ** whoop dee do.** I can't even find a name...nuthin' ..help-help... So where can I can get a replacement and should I replace both at the same time?
Thanks for your time, Sandy

Answer: I thought all the 23 footers had the same ones, but I don't know for sure. I know the 29 footers have a different system. Look at the two air bag gages on your dash. Mine say "Firestone Ride Rite" on them. Firestone sells the system as a kit, or they did. I seem to recall that some airbags are difficult to find, but there is a replacement bag that will work; however, I don't know any details. (? They say it's from a milking machine, but I think it's for the 29 footer. It is supposed to be as good as the Udder-One. ?) I think replacing both is a good idea, and I would keep the used one as a spare for you or somebody else in the club. I will post this on the site and see if anybody can help.
If you go on the web site and search the archives for "Air Bags" you will get 9 hits. They point to some spares and at lease one person who had the same problem. You might want to contact them.
Update: From: dalemaggio@yahoo.com Yes, Lon's son, Arlon, can order them for you. I have lost the number but you can call Lon and get it. It is the 7" single bellow Firestone bag. The invoice that came with it gave a part number of FT W01-358-7564 STND 1/4"NPT. Oddly enough, the warehouse is right here in Santa Clara, CA.
-=Dale=-
Update: From: Frank DeRemer wrote: I believe the Ride Rite version was the only one used on 23-footers. The 29-footer definitely uses a completely different system, with a much bigger bag. Lon Waterson (see Club Directory) can put you in contact a source of air bags; Dale Maggio just bought two from that source -- so you can also contact Dale Maggio [dmaggio@pacbell.net].
--Frank

Update: Tom I had paperwork from one of the air bags that I had ordered, part number is W01-358-7451. The cost for two (on sale) was $218.18 and $22.67 shipping in 2015. The guy that helped me at MRO Stop website, was Steve Bell (866)388-7558 x 7685. Here is a fact sheet on the air bags -- airbags.pdf -- from Firestone. Hope you both, are having fun, we miss you.
Cruiser's Pam & Dave Royston


Return to the Tip List.

Subject: Tire Tips

Tip: Tires have been the subject of many tech-tips, articles, and rally discussion. Some of these can be found in issues Summer '94, November '97, November '98, July '99, etc. but most noteworthy are the articles "Weight Chart", Spring of '94 and "Tire Information - General", March of '96. Article "Tread Safely" by Linda Lee Walden and Lynn Laymon published in December 2004 issue of Highways goes into considerable detail on this subject and is recommended reading. They echo what was mentioned in our news letter over the years and left me with the following points to remember:
To get the proper tire inflation each wheel should be weighed individually (just like Rick said back in '94).
Tire pressure is critical. Knowing how much weight each wheel caries can help determine the correct tire pressure as recommended by the manufacturer. "It is important that all tires on a specific axle be inflated to the same pressure, so if the loads on individual wheel positions require different pressures, the higher inflation pressure should be used for all. Don't be tempted to automatically inflate your tires to their maximum pressure regardless of actual load. 'Overinflated tires cause a rough ride and lead to irregular and premature wear', say Toyo's Gilbert. 'Also, overinflated radial tires do not hold the road as well.'"
Tires can last many miles but not many years. In our case, they may lose their life long before they lose the tread. "Depending on exposure to sunlight and ozone, the rubber in tires can be expected to last between five and seven years form the time the tire is put into service."
In addition to above tips, the article suggests the following website:
RV Safety Education Foundation
www.rvsafety.org
321-453-7673
From there you can get to various manufacturers' web sites and a wealth of information.
#212 Petrovich


Return to the Tip List.

Subject: Check your Tires for Cracking

Tip: End of Summer; check your tires for cracking. George lost one this Summer. Had 10/32" rubber but were 5-1/2 years old. Check age on casing, next to DOT stamp. Three digits signify week and year manufactured. Normal warranty is 4 years.
#102 Kinnison


Return to the Tip List.

Subject: Old Tires can KILL you!

Tip: I just blew a beautiful tire with a 1/2 inch of tread on it that looked good (no cracking on the sides or around the tread) and it was inflated to the proper air pressure. It was one of 4 Cooper 235 / 85 R16 10 ply tires I purchased 7 years ago and it only had 15,000 miles on it when went the tread pealed right of the right rear tire. I was luckily! The tread slapped against the side of my Aero Cruiser and left tread marks from the side door to the rear access panel which was also dented.

Others have had the same thing happen; however, the tread took out the Aero Cruiser's wheel-well and required extensive fiberglass work to repair!

You can check the age of your tires on the casing, next to DOT stamp. New tires use a 4 digit code where the first 2 digits are for the week and the last 2 digits are for the year they were manufactured. Old tires before 2000 used a three digits code for week and year. If you have a 3 digit code, get rid of them!

The warranty that came with my new BF Goodrich tires said "Tires that have been used for 5 years or more years should continue to be inspected by a specialist at least annually". That's legal speak for "Tires over 5 years old are running on borrower time, and so is the driver!"

It's not just the tire industry that says tires over 5 years old are dangerous. Many other organizations also recommend that tires 5 to 7 years old should be replaced. Always check the manufacturing date on the side of your tires before you buy them; because, the clock starts ticking down on tires when they are manufactured, not when you buy them! If you buy a brand new tire that was manufactured two year before, you only have 3 years left on that tires life!


And don't forget your spare! It may be 18 years old! How far do you think you can drive a 5 ton motor home on an 18 year old tire?

Keep on Cruisin', Tom Heald

Update: The critical element is sunshine, rather than either tread wear or age. My Michelins are 9 and 12 years old, very carefully protected from sun. They are inspected annually by the shop the sold them to me, and will be replaced just as soon as they recommend doing so.
Ray

That's the way to do it Ray. I keep my tires covered also. I also had mine inspected, and they passed! Sun is a factor, but so is moisture and oxygen on the inside! Even tires kept in a climate controlled environment will deteriorate over time. Here are some of the other factors from the Internet. http://www.rversonline.org/ArtNitrogen.html

I suspect my tire picked up a nail or something, deflated slowly and got hot. The inside steal belt was slightly rusted from moisture and oxygen inside the tire that was absorbed and the tread let go! Using nitrogen to inflate tires would have eliminated any possibility of water and oxygen inside the tire.

By the way, CostCo fills the tires with nitrogen at no extra charge. This is a big factor in keeping the tires dry and oxygen free on the inside, thereby slowing down deterioration over time. Plus they will check your tire pressure before a trip and they have a good road hazard program. I find their people very knowledgeable and they had the best price of the 3 places I checked in town.

Nitrogen has several major advantages over air in tires.
The biggest factors are that it is dry and has no oxygen! If you use air, it is 78% nitrogen, 21% oxygen and some other gases but it also carries a lot of water vapor along with it. Some tire shops use a compressor that dehumidifies the air which helps some; however, nitrogen used from a tank has no water vapor or oxygen.

Any water and oxygen inside a tire will migrate into the body and can cause the tire to break down and the steal belt to rust, expand and weaken the tire.

Sulfur is also used in the manufacture of tires to give them greater flexibility. Oxygen and water that migrates into the tire can react with the water-soluble sulfur causing it to brake down. Water acts as a catalyses for this process that produces Sulfuric acid.

Another factor is that nitrogen has a larger molecule size and tends not to migrate into the tire and any that does is inert and will not react to the components of the tire.

With air in my tires I would typically lose 4 or 5 pounds of pressure when my Aero Cruiser sat unused for 6 months or more. With nitrogen I have not lost any pressure but I still check it before any trip.

Also see Flat Tire? Use the Air Bag Compressor to fill it up, Flat Tire - How to change it and Spare Tire - Lowering and Raising.
Keep on Cruisin', Tom Heald


Return to the Tip List.

Subject: New Tires

Tip 1: Ken reports that Bridgestone has a new tire that appears to be replacing the Model 265. In his discussions with Bridgestone Dealers, the technology for Model 265 is about ten years old. If you want all the specifications, go to www.bridgestone.com

He purchased four new Bridgestone LT235/85/R16, 10 ply, Load Range E, Model R273SWPII at Costco. Their price was $118.99, plus $9.00 installation and $1.00 tire disposal. Total cost per tire was $128.99. Future Service includes free flat repair, rotation, and rebalance. His total cost was $499.82.
#215 Stahl

Tip 2: The general consensus among Aero Cruiser members is that the Bridgestone R265 (BW) LT235/85R16 Load Range "E", Ten Ply Rated Tire is the optimum choice for this coach. There is an outlet in Richmond, British Columbia Canada that markets this tire at a very attractive price of $112.99 that includes all import fees. Shipping cost for these tires via UPS ground is approximately $12 per tire, but there is no sales tax charged by the vendor. The name of the vendor is: 1010 Tires, and they can be reached at web address: sales@1010tires.com or by phone at 1-888-825-6247 Allow about one week for delivery. They accept the usual range of credit cards.
#462 Wachtell


Return to the Tip List.

Subject: What is the Tire Air-Valve for under Front Hood? -- or --
Flat Tire? Use the Air Bag Compressor to fill it up.

Question: My air-bag system has the inside gages/controls and air compressor, but also has an air fill (tire chuck if you will) point under the hood, next to the under hood light. At this point I haven't checked it to see what it does...
Walter

Answer: My 23' 1990 Aero Cruiser came with a 25 foot air hose that attaches to the air-valve up front under the hood so you can use it to fill up the tires using the air bag compressor. I have used it once to add 50 lb to a flat tire when I woke up to a surprise one morning some years back.

It was enough to get me to a shop where I could have the tire fixed.

The original owner said it came with the rig so it may have been a standard item on some Aero Cruisers. I have also been told that some early Aero Cruisers did not have an air bag compressor so you had to fill them up using this valve. In an emergence, you can always use it to fill the air bags if your compressor is not working.

Also see Old Tires can KILL you!, Flat Tire - How to change it and Spare Tire - Lowering and Raising.
Keep on Cruisin', Tom Heald


Return to the Tip List.

Subject: Brake Calipers & Pistons

Tip: Mark had a recent experience with frozen front brakes. The pistons in the front calipers are phenolic and should be replaced with like material not metal. They were designed that way for a purpose and should be maintained with original design parts.
#464 Keeler


Return to the Tip List.

Subject: Front Wheel Brake Rotor & Hub assembly

Question: Have you or someone else you know ever replaced the front wheel brake rotor & hub assembly? If so do you have a part number or vehicle identification it came from? Everything I was able to find so far comes with 1/2" studs is stead of 5/8". Dragi

Answer: I did find a Chrysler part number by chance (03637626 HUB and DISC, w/8-5/8" Studs w/4000 lb axle) but no cross-reference to any aftermarket manufacturers. The one I did find asks for $445+, a bit pricey. So, the search continues. Dragi

Note: For other brake parte numbers see Georges article on Brakes and Brake Upgrade. Keep on Cruisin' -- Tom Heald


Return to the Tip List.

Subject: Brake Lines

Tip: When performing general inspection, check the brake lines for corrosion. Stan Morris reports that his lines that run across the rear axle corroded through and started to leak. Replacement lines are straight and can be purchased at any automotive parts store. Check the length and bend to contour.


Return to the Tip List.

Subject: Brake Pads may fail before they are worn out

Tip: Even the best brake pads may fail in service and become inefficient. We had a chance to see pads that had a lot of material left but the heat had crystallized them to the point that the material was eroding on the outside edges and the edges of the rivet holes. If this is observed during the inspection, they should be replaced. Different grades of pads are identified with different color codes. Red are top of the line, blue are mid-grade and green are regular.


Return to the Tip List.

Subject: Brake Fluid

Tip: John Donn asked how often should brake fluid be replaced (lines flushed). Theoretically, if brakes never overheat and the system is kept clean, the fluid should not have to be replaced. However, it may be a good idea to bleed some of the fluid from a drive wheel at the time of brake shoe replacement to check for debris and general cleanliness. If the fluid is discolored or has debris in it, it may be a good idea to flush the system.


Return to the Tip List.

Subject: Brake Fluid Level

Tip: If your brake fluid level is low and you don't have any leaks, chances are your brake pads may need replacement. Before you top off the brake fluid reservoir, check your brake lining and replace if necessary.


Return to the Tip List.

Subject: Brake Fluid Reservoir

Tip: Filling the brake fluid reservoir can be difficult due to its location under the hood but not if you have a device similar to what Dave has put together. He was still improving it at its unveiling so call Dave for details.
#409 Royston


Return to the Tip List.

Subject: Hot Brakes

Tip: Your brakes may overheat in stop and go traffic on a hot day which may cause them to "grab" on one side causing your steering wheel to turn abruptly. If this happens, pull over and let the brakes cool. If that doesn't cure the symptom, you may have brake line blockage or seized brake caliper. The brake piston is made of phenolic material and should not be replaced with a metal one. The best thing to do is to replace the whole caliper assembly with a rebuilt one.


Return to the Tip List.

Subject: Parking Brake

Tip: Parking brake replacement is typically due after two to three front brake pad replacements. Another indication will be how far down your parking pedal goes.


Return to the Tip List.

Subject: Rear Brake Adjustment

Tip: Because we don't drive our coaches in reverse enough, our rear brake adjusters seldom get a chance to work. The recommendation is that if you have more than 3 clicks on your parking brake, have the brakes adjusted manually for proper operation.

Update: Before I start out on a long trip, I normally back up and stop firmly several times on a quiet street! I don't stop hard enough to dislodge anything inside the rig, but firm enough to activate the brake auto-adjustment mechanism.
Keep on Cruisin' -- Tom Heald


Return to the Tip List.

Subject: Tow Vehicle Braking System

Tip: Frank Fries reports that he had a " Brake Master" installed in his tow vehicle and has already more than gotten his money's worth.


Return to the Tip List.

Subject: Lug Nuts

Tip: Ken found a source of lug nuts for the Alcoa wheels in the Sacramento Area. This nut is different from any of the ones covered in the Tech Sessions. It is a closed end - 5/8" x 18 - 60 degree cone with an outside diameter of 7/8 inch. To provide an adequate 60 degree cone, it has a bulge on the bottom end so sufficient cone angle comes in contact with the Alcoa Wheel when torquing.
Source: Les Schwab tires, 8124 Auborn Blvd., Citrus Heights, CA 95610-1456. Part # 00000461 Telephone 916-728-2223
#201 Green

Update: Steel wheels use 5/8-18 RH thread, 7/8, 45 degree nuts. Aluminum wheals use Chrome 5/8-18 RH thread, 7/8, 60 degree nuts. Here are some online sources for 60 degree nuts:
http://www.prestigewheel.com/ Part Number 5260L
http://www.sfxperformance.com/ Part Number GOR76198-1 or ...-16 for a set
If you get a "Page not found" just go to the main site and search on the part number.
Keep on Cruisin' -- Tom Heald


Return to the Tip List.

Subject: Wheels Lug Studs

Tip: I was coming back from Oregon about 3 weeks ago, and the rig started acting like it had a flat. Stopped, checked the tires, no flat, thought maybe I was dragging something, checked underneath, nope.

Got back in, went about 50 feet more, still not a good ride. Got out again, did a closer inspection. Had lost 2 lug nuts on the right rear tire, and the studs had fallen back into the brake drum, tore it all up, down to the backing plate. Whoever setup these rear wheels could have killed someone. Tacking steal bolts to cast iron drums (any pipe fitters son can tell you that's just not right) via spot welder isn't a very good idea. All of them on the right hand side had broken free, and the mechanic said that's "probably" why the lugs came off, though they could have just worked loose on their own. But seeing as how all the studs had broken their improper welds, he doubted it. The 299 between Eureka and Redding is a scary enough ride without that potential, lucky we didn't go over a cliff!

$1800 and a week later in Willow Creek CA, new rear hubs and brakes, both sides.
Lesson learned #1, incorporate a lug check into the preflight checklist.
Lesson learned #2, "mickey-mousing" it like that can cost lives.

If anyone in the club is doing this also, it would be in their best interests to reconsider. Better check your rig, make sure it's safe, the life you save may well be your very own. WE are lucky to be alive, God was watching over us.

This letter is from Rich Bland, who does not appear to be a member of the Aero Cruiser club but we appreciate his input anyway. He sent this note to Frank DeRemer and we thought it's valuable enough to be shared with all.

Editor's Note:
Aero Cruiser brakes, wheels, tires, and other safety items have been the subject of many tech' sessions at the rallies, tech' notes, and tips in the news letters. This is something that should be taken seriously and if you have any doubts about your own ability to fix things, should be done by a reputable professional. Unfortunately, what Rich had was done by a professional who may not have done a good job. At the very least, check your lug nuts periodically and if you have aluminum wheels, check them before each long trip. (see Torque Settings below)


Return to the Tip List.

Subject: Alcoa Aluminum Wheel, Lug Nuts & Studs

Tip: George explained that the main motivation for the aluminum wheels was to provide a better heat sink to accommodate brake drum and disc cooling.
When he located the Alcoa wheels (the first to have the proper load rating) he discovered that they would not fit over the 5/8" studs even though they were advertised as being able to fit all domestic manufactures bolt patterns. After consultation with Alcoa engineering, it was concluded that the holes could be enlarged to 21/32" to accommodate the 5/8" studs without degrading structural integrity of the wheel. If you should buy the Alcoa wheels and they don't fit your studs after drilling out to 21/32", chances are the studs are misaligned and should be brought back into alignment. The holes in the wheels should not be enlarged beyond 21/32" diameter.

If you are upgrading rear brakes and change the studs from the original 9/16" to 5/8", make sure the installer presses them in square.

George was also the first to purchase Alcoa "star" shaped rims, which cracked after several years of use. See the whole story and how to replace them in the July 2001 (Report #027) newsletter. Since steel nuts are used with aluminum wheels, it is important to use the proper torque values and to have the nuts in good condition. The torque should be 150 ft-lb. and should be checked periodically to make sure they don't loosen. The nuts should have good plating in the surface mating area and should they start to flake they should be replaced. The best nuts found so far are sold by Les Schwab Tires.

If you would like to purchase a new set of Alcoa rims, at best price ($120 plus shipping) contact: Henderson Wheel & Supply Co.
112 W. 34th Street Boise ID 83714
Phone 800 248 3444
FAX 208 336 1296

Update: Tech session started by George explaining the Alcoa aluminum wheel recall, which affected only the spoke wheel design (not the one with round holes). He also cautioned everyone with Alcoa aluminum wheels, either design, to use only lug nuts with a 60-degree cone. Other angles will result in a mismatch with the hole in the wheel and will not seat the wheel properly.


Return to the Tip List.

Subject: Alcola Aluminum Wheel Recall

Tip: Members with Alcoa wheels part No. 167011 (star pattern) need to know that Alcoa has a recall on these wheels. Replacement wheel is part No. 167-031. The following is what you should do to get them exchanged:
1. Contact Alcoa at 1-888-279-3055 and ask to talk to "Buddy". He will tell you how to exchange the wheels.
2. Alcoa will ship the wheels to your house post paid.
3. You take the wheels to your tire dealer to remove and remount tires. Alcoa will pay for this charge.
4. Return old wheels in the new wheel boxes. Alcoa will provide shipping labels for return postage.
#102 Kinnison


Return to the Tip List.

Subject: Alcola Aluminum Wheel Hole size

Tip: Mary Dovico reports that 21/32 drill used to enlarge the lug nut holes on the aluminum wheels was not big enough and had to be .017 larger. Those of you contemplating getting new aluminum wheels may contact Mary and either borrow or buy the drill from her.
#253 Dovico

Update: George Kennison also has a set of drills. This is a common problem with Alcola Aluminum Wheel that are designed for a 1/2 inch stud. If you are purchasing new wheels, see what stud sizes they support before plunking down your dollars. Also consider chrome plated steel wheels, they are much less of a problems when it comes to maintaining proper torque Settings. (see Torque Settings below)
Keep on Cruisin', Tom Heald


Return to the Tip List.

Subject: Aero Cruiser Lug Nut Torque Settings from Chrysler

Tip: The torque settings that I found on the Internet are slightly different for the front and rear axels. The front axel is manufactured by Chrysler corporation from a 1987-92 Dodge Ram 3500 full size pickup. -- http://dodgeram.org/tech/specs/wheel/specs.htm --
The rear end is a Dana 60 by Spicer and used in most large Dodge trucks. -- http://dodgeram.org/tech/specs/axle/248RBI_specs.html -- I have been told the proper torque depends on the type of wheels that are installed: Steel or Aluminum. If you have aluminum wheels, follow the specks for the wheel maker. The maker of my wheels specifies 120 rear and 140 front; however, Chrysler said 140 all around. All of the wheels are 8 stud single wheels on both the front and rear axels.

When I purchased 4 new tires at CostCo they wanted manufactures specifications. They called the local Chrysler dealer for the torque settings for an Aero Cruiser using the axles described above. They were told that the proper torque procedure is a three stage process. First torque all lug nuts to 40 ft. lb., then 80 ft. lb. and finish at 140 ft. lb. for the final torque. The same torque settings should be used for both steel and composite wheels including aluminum. This is the same for both front and rear lug nuts even though the front studs are 5/8" while the rear studs are 1/2".

| | | |
| --- | --- | --- |
| Aero Cruiser Spec. | Torque from Internet | Torque from Chrysler |
| Dodge 1 Ton front Axel | 120-150 ft lbs | 140 ft. lb. |
| Dana 60 rear Axel | 120-140 ft. lbs. | 140 ft. lbs. |
Keep on Cruisin' -- Tom Heald


Return to the Tip List.

Subject: Torque Settings for Lug Nuts is Critical on Aluminum wheels

Question: I could not locate the torque specs. to the Alcoa aluminum wheels with 5/8" X 18 T.P.I. studs. with 60 degree cone lug nuts. So I called George for the answer. "150 ft. lbs." I didn't ask about the steel wheels, what should I set them too?
Thanks to all of you. Pam & Dave...

Answer: As for the lug nuts on steel wheels, I always tightened them as tight as I could using a lug wrench which is wrong. The specs are the same as for all wheels, 140 ft. lb. See -- Aero Cruiser Lug Nut Torque Settings from Chrysler -- With aluminum wheels over tightening is almost as bad as under tightening. As stated in the tips for new users under "Manuals, Documentation and Maintenance tips for an Aero Cruiser"

If you have Aluminum wheels it is imperative that you check the torque with a reliable torque wrench often. Check with the manufacturer of the wheels for the proper torque settings. Each manufacture is different and the torque is different for the different stud sizes used in the front and rear wheel drums. Aluminum wheels expand and contract more than steel wheels, and the lug nuts will loosen and you will lose a wheel if you don't check them often! If you over torque the lug-nuts you can damage Aluminum wheels. Steel wheels also need to be checked from time to time but they are not any why near the problem Aluminum wheels are.

That said: I have Aluminum wheels from Pacer and they recommend 140 ft. lb. for the larger 5/8" studs in the front and 120 ft. lb. for the smaller 1/2" studs in the rear. However Chrysler says to use 140 ft. lb. for all wheels all around. See -- Aero Cruiser Lug Nut Torque Settings from Chrysler -- torque recommendations.

When George said 150 ft. lb. for the Alcoa aluminum wheels all around I assume he means with the brake upgrade. That is the high end of the torque range.

Others have stated different numbers at rallies when we have discussed it. Some say I am too high, others too low, so check with the manufacturer of your wheels.

If you have aluminum wheels and you get new tires, don't let the shop use an air gun to tighten the lug nuts. The will over tighten them and may damage the wheels!

If you are considering upgrading to aluminum wheels I recommend you consider chrome plated steel wheels. They weigh about the same and they are not as apt to loosen as the aluminum wheels. Just make sure you are purchasing wheels in the proper weight range as stamped on the original wheels on the Aero Cruiser.

If you do upgrade to aluminum wheels, they have a different requirement for the lug nuts. They use 60 degree lug nuts where the steel wheels us a 45 degree lug nut. So when you upgrade, save your old lug nuts for your spare tire. You don't want to damage your 60 degree lug nuts by putting them on a wheel that requires 45 degree nuts.
Keep on Cruisin', Tom Heald


Return to the Tip List.

Subject: How good are Alcola Aluminum Wheels?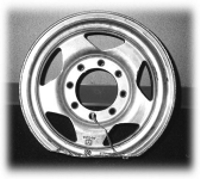 Tip: How good are the Alcoa wheels, you ask? Take a look at this photo! When Ed Pedersen lost the tire on a recent trip and locked up the brakes, the coach came to a "grinding" halt, literally. You can see the flat spot on the bottom of the rim but it held together.
Ed Paterson


Return to the Tip List.

Subject: Hubcaps

Tip: One of the Aero Cruiser owners (not a member of the club) visited our website and posted this information where he found some attractive hubcaps at www.hubcapzone.com ($79 for the set). They do not protrude out beyond the tire edge to get skinned up on high curbs.

Update: How do you secure the Hub Caps so they won't fall off? (See the 2002 November newsletter on page 15 for sketch)


Return to the Tip List.

Subject: Hubcap -- Check Air-Pressure without removing Hubcaps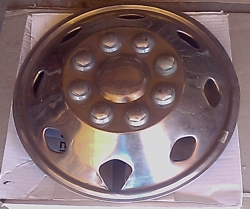 Tip: What a pain, removing the hubcaps to check the tire's air pressure!

I tried extenders, but the tires went flat!
Bigger Pain!

So I decided to get creative and modified one of the vent holes so it was large enough to check the tire's air pressure or fill it up if needed without removing the hubcap.

Works good and blends in well enough so you don't really notice it.

Some years later I went to Aluminum wheels which works even better. However, chrome plated steel wheels would have been an even better choice because they don't expand and contract -- loosening the lug nuts -- nearly as much.
Keep on Cruisin' Tom Heald


Return to the Tip List.
---
Copyright© 1999-2016
Freelance Ink.
All Rights Reserved.

---